Guess what, everyone? It's Mass Effect Month over here at AmbiGaming! Hold on to your N7 helmets, because we've got four weeks of Mass Effect feature posts coming your way!
Let's start off with something nice and light and that no one has ever talked about before. How about… the Mass Effect 3 endings! Yes, I'm sure this has never been discussed or debated before.
To be honest, I'm incredibly late to the Mass Effect party, and went into Mass Effect 3 ready to hate the endings. In order to experience the full let-down, I played through the final game with the original endings before downloading the extended cut and playing through those, in order to really get at the meat of what made the endings just so gosh darn bad.
And, boy, was I let down.
The endings weren't bad at all.
Now, if you're looking for a good review of Mass Effect 3 to start you off, you should definitely go and check out Falcon509's detailed review. Otherwise, we're going to dive right in and pick apart the endings of this final chapter in Commander Shepard's space opera. So beware spoilers for, you know, Mass Effect 3.
Now, I like the extended cuts, too. I'm always up for more story, especially for characters that I like. But when I played through the original endings, I thought they were fitting, and I appreciated the open-ended feeling they had, as if the writers wanted to challenge the players to wonder and discuss and problem-solve what they thought happened next. I sort of liked the uncomfortable feeling at the end of it all. But let's back up a bit.
The Outrage
Storytelling in games is important. Storytelling in any medium is an art. The beginning of a story can set the stage for the entire journey, and the ending can leave a lasting impact. I remember in college, the conductor of the university's orchestra once said, "As long as the rest of it isn't a train wreck, audiences will only remember the first note you play and the last note."
But, to quote Aria T'Loak, "How things begin is not nearly as important as how things end."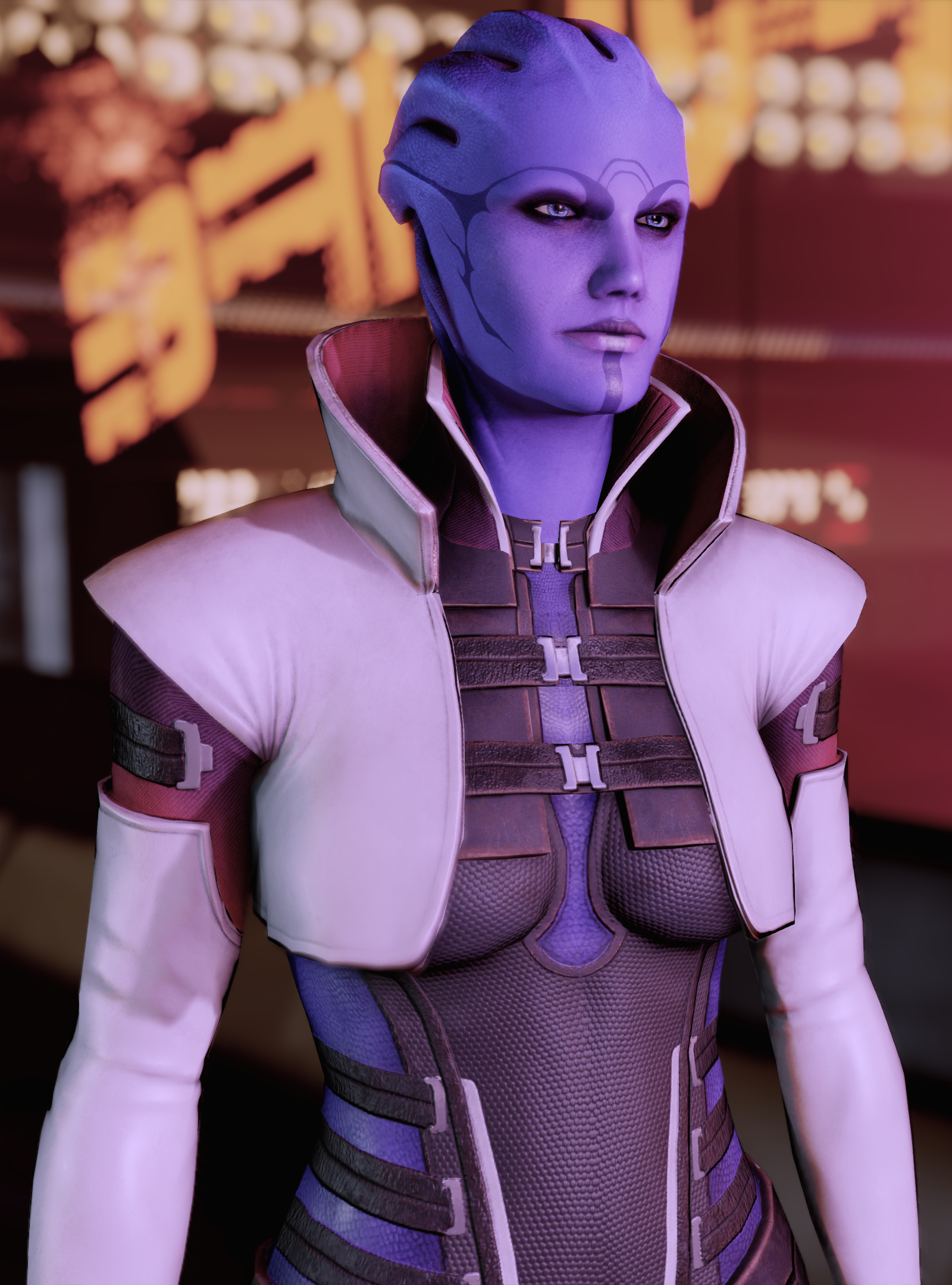 Okay, so I'm on board that the endings weren't perfect, even though I liked them. My biggest gripes are that the original endings felt startlingly abrupt, and that one promising – and somewhat important – detail about the Reaper invasion (having to do with Tali's work on Haestrom) was cut due to time. It would have added an interesting monkey-wrench to the mix if Shepard also had to contend with knowing biotic powers were potentially destroying the galaxy and so the Reapers were coming to stop organic life from being wiped out.
Other fans of the series have railed against the less-than-ideal choices at the end of the game, or bemoaned that every last decision they made wasn't given a fanfare or a cookie at the end of the series (author's note: I hate message boards sometimes). The story wasn't tied up neatly with a bow, and many questions were left unanswered (in the original endings).
In response, BioWare released "extended cut" endings that showed the effect of Shepard's efforts and final decision. Questions were answered, and players were handed a neat little package, a pat on the back, and, honestly, a whole lot more closure than the original endings.
But at what cost?
The Original Endings
It's true that, at the end of the day, your choice to kill or spare the Rachni queen doesn't influence your final decision. Who you saved on Virmire doesn't really matter when you're standing in front of the Catalyst. Whether you did all the side quests for Zhu's Hope doesn't come back to bite you, and I made it through the entire second and third games without running into Conrad Verner and did just fine.
All of these choices and side quests were drops in the ocean that was the galaxy at war. I think it's unreasonable to want every decision to be profound and life-altering, even in a game. Enough drips and drops affected the outcome, to a point, but I think the endings portrayed some very hard truths about life and war.
First of all, every choice you make does not set off a butterfly effect that has enormous consequences later. Sometimes you're simply doing things because, in that moment, something needs to be done: a batarian has a gun in your face, or a quarian is asking for help. You don't think, "Gee, I wonder how this will help me in the long run?" No, you think, "What do I do right now with this person standing directly in front of me?" If there's a profound consequence afterward, I see that as a bonus.
Second of all, Shepard dies in every single ending (unless some very specific parameters are met). And that sucks. There's no "Dark Ritual" here to save the hero. No space-magic that can give a happy ending for your playable character. And that's important. Because sometimes good people – even heroes – die. Sometimes they die heroically, sometimes they die mundanely, but in either case, those heroes don't get to experience the world they saved. It sucks and it's not fair, but it's real. I think of Gold Star families in this case: their heroes will never get the happy ending they deserved, no matter the "war readiness" of the army or how often they did things "right."
Note: I think the term "gold star family" is specific to the USA, so for all my non-US readers who might not know what that is, "gold star family" refers to the immediate relatives of a US Armed Forces member who has given their life during combat or other military-related activities.
Perhaps some fans were in shocked disbelief that even after doing "everything right," Shepard still died and they didn't get a "good" or "happy" ending. But if death isn't seen as a punishment, Shepard dying isn't a "bad" ending. Maybe it's not what the player wanted, but the game hasn't "punished" or withheld anything from the player, other than a desire for "happily ever after."
And that leads to my third point. There was no objectively "happy" ending. The SSV Normandy was torn apart and crash-landed, players were given no closure as to the fate of the other species in the galaxy, Shepard's love interest was left alone, and players were left with an unsettled feeling of "well, what happens now?" War is like that as well. There is no "happy ending" for the troops on the ground. When a conflict finally ends, even the population at large is left standing shaken, disbelieving that it's finally over.
Memories of the war live on. The dead are still dead. But the conflict is over. Maybe that's a "good" ending, but is it really "happy"?
The future of the Milky Way galaxy post-Reaper war is uncertain, and the game's endings captured that.
And maybe – just maybe – the endings were more profound than we originally thought. After all, here we are five years later still talking about them, still analyzing them, and still debating their merits and shortcomings. I compare Mass Effect 3's endings to Dragon Age II, because Dragon Age II is (usually) only brought up when someone wants to say how terrible it is, usually in comparison to Dragon Age: Origins or Dragon Age: Inquisition. But Mass Effect 3's endings have fans clearly on both sides of the issue.
But why? Because each of the endings, unlike each of our in-game choices, have profound, life-altering consequences that impact the galaxy. Of the three (main) choices, none of them are truly "good" or "bad." One might even say that none of them are "ideal." They just provide different options to the player and open up the galaxy to different consequences. Let's take a look at what the endings had to offer.
Note: I'll be using the pronoun "she" when I refer to Shepard, partly because my Shepard is female and that's how I default when talking about her, and partly so I don't have to write "he/she" and "him/her" all the time.
Second note: We'll be discussing the Indoctrination Theory in a later article, so for the purposes of this article, I'm assuming that the Indoctrination Theory is not real.
Pick the Red Pill
The "destroy" option is exactly what it sounds like: Shepard uses the Crucible to destroy all synthetic life. This effectively destroys the Reapers and stops the threat of them continuing their cycle of harvests. However, because this option destroys all synthetics, all AI are destroyed, including the geth and EDI. The catalyst also reports that technology based on Reaper tech will be destroyed (or perhaps significantly damaged), but also alludes that organics will eventually build synthetics again, implying that so-called "Reaper technology" may be salvageable in the future.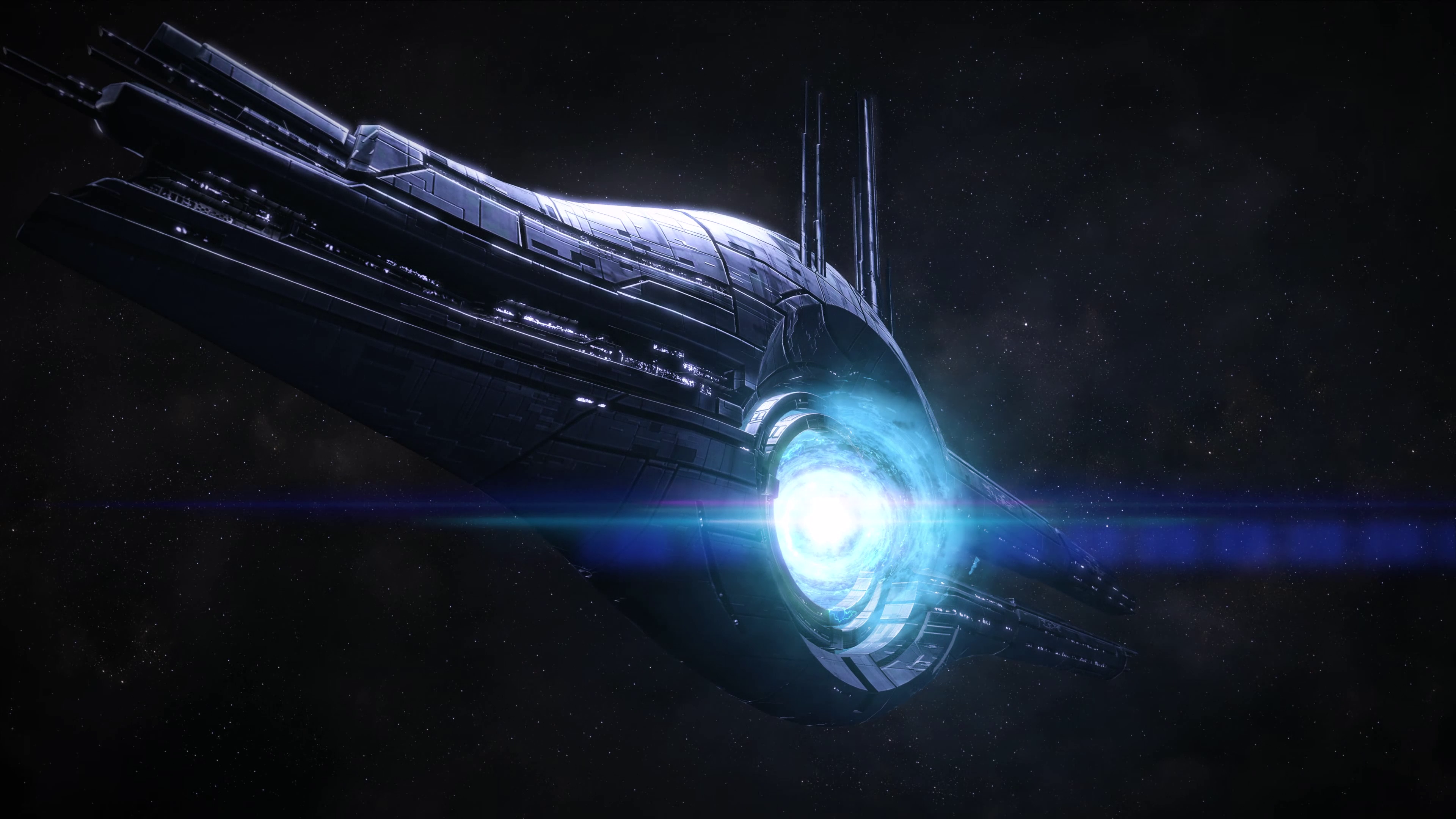 The Catalyst seemed least enthusiastic about this option, claiming that the cycle will eventually begin again, once organics start recreating synthetics. What the Catalyst doesn't mention is that the Reapers convinced the geth (the ones Legion calls the heretics) to try and destroy organics, so while the Reapers may seek to "elevate" organice species, they don't go about it in a way that is amenable to organic support and – as we'll see below – their solution is based on flawed logic.
Unfortunately, this ending means that Shepard will be causing mass genocide against the geth and any other AI "species" within the galaxy, in order to protect the lives of the organics. Of course, one could argue that sacrifices must be made in times of war, but that does not erase that thousands of cognitive, thinking creatures will be killed with the pull of a single trigger.
TL/DR: Shepard must be willing to destroy a sentient species for the greater good.
Pick the Blue Pill
In this ending, Shepard chooses to give up her physical body in order to merge her consciousness with the Reapers. Through this connection, she will become a sort of overlord to the overlords an be able to control their actions. I imagine that the assumption is that Shepard will order the Reapers to cease their attack, but future implications of her control are hazy (even with the extended cut explanation). Does she order them to shut themselves down, killing them and herself in the process? Or does she simply exist as a guardian of the galaxy?
This is the solution that the Illusive Man suggested and yet ultimately failed to see to fruition because he became indoctrinated. Interestingly, before Shepard's conversation with the Catalyst, she tells the Illusive Man that controlling the Reapers is not a viable option, because humans are not capable (for one reason or another) of that type of responsibility.
However, the assumption is that regardless of her words to the Illusive Man, Shepard will somehow not fall prey to indoctrination and will maintain her sense of justice. The Catalyst seems adamant that Shepard will be able to control the Reapers, however, and so that option is made available to her.
TL/DR: Shepard must rescind on her comment to the (indoctrinated) Illusive Man that no one should try and control the Reapers. However, due to Shepard's strong will, it is assumed that she actually is able to control them, unlike the Illusive Man.
Pick the Green Pill
The most theoretically interesting of the three choices, the synthesis option enables Shepard to sacrifice herself in order to merge organics and synthetics into one super-species. This is what Saren wants in Mass Effect, claiming that the new species would have the strengths of both organics and synthetics, but the weaknesses of neither.
Interesting, Javik reports that some of his Prothean brethren believed this to be the only option to survive and, in the same breath, calls them betrayers. This makes sense also because Shepard (rightly) accuses Saren of being indoctrinated and of betraying everything he has sworn to protect.
This option reminds me a bit of the book Childhood's End (1953) by Arthur C. Clarke, and the movie 2001: A Space Odyssey (1968), which was written by Clarke and Stanley Kubrick. In both of these stories [spoilers="plot spoilers">deal with the appearance of a god-like creature who forces the evolution of humans to a higher form of existence .
Getting back to Mass Effect 3, the themes alluded to for the synthesis ending imply a disregard for the organic species, as the god-like Reapers have an agenda that is very different from the organics they are supposed to be "helping." This type of forced elevation raises many ethical concerns, especially when the player considers that Shepard has made this decision for every organic and synthetic race in the galaxy. There is also no knowing how the "perfect thought processes" of the Reapers will be able to meld with the emotional organic brains. There is also no definition of what is "weak" about either organics or synthetics, which is a very important factor when trying to decide if effectively deleting the "weaknesses" of both species is the right option.
TL/DR: Shepard decides to "elevate" organics (and synthetics) the way the salarians did with the krogan, believing – based on incomplete information – that merging the two is the only way for organics and synthetics to live peacefully, like Saren believed before her.
A Short Note
None of these choices are ideal. After all, two of them force Shepard down the same path as the characters she so vehemently disagreed with in the past two games. Destroy implies genocide, Control means that Shepard backtracks on an position she defended literally moments before, and Synthesize means that she is speeding up evolution in a way that might not be necessary for survival. More on that in a moment.
But for a short-tempered Shepard, there's another option.
Don't Pick a Pill at All/Shoot Him in the Face
I have no defense for this one. BioWare listened to how outraged fans were at being given what psychologists call a "forced choice"* between three very different options (as if they hadn't been given forced choices for every choice in the past three games), and so gave players the option of shooting the Catalyst, effectively wiping out all advanced organic life in the galaxy and restarting the cycle of Reaper invasions.
Personally, I'm not sure why anyone would pick this option, other than to see what happens. You spend three whole games being a hero (even if you're playing as a renegade), only to throw out the needs of the galaxy at the last possible moment. I mean, if that's how you play, that's how you play and that's cool, but it seems out of character even for renegade Shepard (that is, renegade Shep is supposed to "get the job done" at any cost, and this doesn't "get the job done" at all). Anyway…
TL/DR: Shepard refuses to play the game, serving her ego and being the reason advanced organic life is destroyed.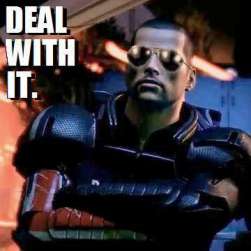 Pick Your Favorite Color
Let's talk a little about this forced choice* during the endgame. No one really likes forced choice situations, because more often than not it seems like you're picking a lesser of two (or more) evils. None of the choices are completely satisfying, and they force you into this uncomfortable space in which you have to fit a large human-shaped detail into a small cube-shaped box.
There are two main reasons I think this "final decision" is fitting for the series, though. Firstly, sometimes life-altering events come down to one very "small" choice. Destroy, control, or synthesize? It seems almost overly-simple, as if it is the representation of the lowest common denominators found by the processing power of a machine. Streamlined. Perfect. Simple.
Until, that is, the far-reaching consequences of that little decision are fully realized. After all, the transition between life and death seems enormous, until you consider that the only thing separating one from the other is a single heartbeat.
The other reason I think the final choice captures the "important point" of the game is that the Catalyst is the one offering Shepard the options. The Catalyst, for those of you who don't remember, is a highly-developed AI (or not) tasked with only one job: to prevent the conflict between organics and synthetics. And it does this with relentless efficiency as only a computer can. But this efficiency leaves no room for the messy grey areas in which organics live. So the choice is brutal, extreme, and seemingly unfair, but each is perfectly efficient in ending the Reaper conflict.
The Catalyst's "final solution" is built on the false assumption that organics and synthetics will always wind up at war, and thus presents Shepard with the options to either destroy the Reapers or merge organic and synthetic life (either a merge with only Shepard or a merge with all organic life in the galaxy).
It doesn't consider the much-less-efficient option of offering guidance to organics as to how to coexist with synthetics, or programming AIs to be compassionate toward their physically-weaker organic neighbors. The Reapers are not the benevolent gods they think they are. They were created by flawed creatures and so they are flawed, as well. They rebelled against their creators, and so concluded that is the only path available. They may be efficient at what they do, but that does not make them all-knowing or perfect.
And so the Catalyst offers Shepard overly-simplistic, beautifully-conceived solutions, which Shepard must choose from because the entire galaxy is at stake.
To that I say, well done. Shepard had all his/her power taken away, but still bore the responsibility of all life in the galaxy. While the galaxy was held hostage, Shepard was forced to make a terrible choice:
Red, blue, or green?
Conclusion
You should be angry. You should be seething mad that the Reapers thought so little of organics that that was the final decision Shepard had to make. You should be absolutely furious that the Catalyst pretended to be all-knowing, when all it knew was its own programming. You should be horrendously angry that no ideal solution was offered after you worked so hard to save the galaxy. It just wasn't fair. It wasn't right! We had been through so much…
And the game left us shaken, uncertain as to how the remaining pieces fit together. We were shocked, angry, confused… as if we had just toppled an uncaring, all-powerful overlord from power.
What do you think? Have I dug too deeply? Or do the Mass Effect 3 endings deserve a bit of apology? What did or didn't you like about the endings? Which ending did you choose and why? Let me know in the comments!
Thanks for stopping by, and I'll see you soon!
~ Athena
---
*A forced choice is when you are given at least two options and told you have to pick one, even if none of the choices available to you are ideal.
---
Is your subscription to our blog not enough? Do you want more AmbiGaming? Of course you do! So you should definitely check us out on Twitter @TheAmbiGamer and subscribe to follow our Let's Play adventures on YouTube!