We're back with our month-long Mass Effect challenge! For previous days, click here.
Mass Effect Month, Day 16: What is your favorite Mass Effect DLC?
Downloadable content… A great way to add more story to a universe on the best of days, and horrible money-grab on the worst of them.
The Mass Effect trilogy has its share of downloadable content, some good, and some acting as a paywall between the player and fairly important plot content (looking at you, From Ashes). Some represent events that happen "behind the scenes" and that occur whether or not you play the DLC (Arrival) and some give some background that isn't integral to the story, but is pretty interesting nonetheless (Leviathan).
This is a hard question, because I (unsurprisingly) really enjoy two of the DLCs a little more than the others. I love Citadel because I appreciate when games show self-awareness and poke fun at themselves, and the Citadel DLC is delightfully over-the-top, almost like an old action movie, and pokes fun at some of the "staples" of Mass Effect, like Shepard's iconic "I should go," and the (probable) feelings the crew has regarding who Shepard takes on missions.
And there's a party. It's just awesome. I'm not sure how many times I've replayed that party, just so see the different combinations of "lively" and "calm" parties.
And Glyph wears a bowtie, which is adorable.
Oh, and there's also dancing, which is also pretty cool.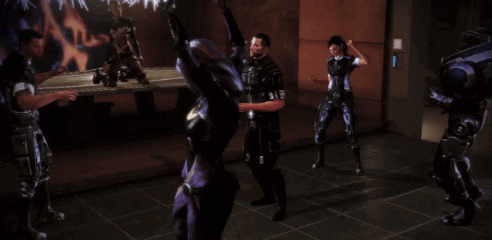 But honestly, my favorite DLC that isn't just hours of fanservice would be Lair of the Shadow Broker, which revolves around Liara. Now, Liara is sort of the Leliana of Mass Effect (or perhaps Leliana is the Liara of Dragon Age, since Liara came first), and does quite a bit of heavy lifting in regards to the story. Shadow Broker expands on this, and while it's not necessary for the plot, it's one of the more memorable missions in my opinion, and adds a nice layer of dynamic between Liara and Shepard, regardless of whether they are in a relationship or not.
It's funny, though, because it's also the DLC that made me want to break up with Liara, after Shepard falls out of a window and Liara doesn't even have the decency to ask if she's okay. Not that I've ever fallen out of a window, but… let's say it's really unpleasant to have your significant other not even inquire after your health after an accident of some kind. All my anger unfortunately was funneled toward Liara after that, but Shepard stuck with her, mostly because I knew that romancing the dev's favorite meant cool content.
Also, (and more importantly), that particular Shepard was much more forgiving than I am. And Liara is a pretty good match for Shepard, all things considered. Anyway…
Yeah. Lair of the Shadow Broker is my favorite DLC for Mass Effect, because it has a good plot, revolves around a fantastically-conceived character, and made me feel real live emotions toward one of the characters.
What about you? What is your favorite DLC from Mass Effect? What was your favorite part about it? Do you generally play DLC, or skip it? Let me know in the comments!
I should go,
~ Athena
What's next? You can like, subscribe, and support if you like what you've seen!

– Support us on Patreon, become a revered Aegis of AmbiGaming, and access extra content!
– Say hello on Facebook, Twitter, and even Google+!
– Check out our Let's Plays if you're really adventurous!