Last month, we talked a bit about the implications of the mage-templar war as developed in the Dragon Age series, particularly how it relates to the current political climate in the United States. As regular readers know, I'm a huge Dragon Age fan, and I could probably do an entire Dragon Age month to complement our recent Mass Effect Month if I didn't think I would bore you all to tears. But this third installment in the series has a lot of interesting nuances, from expanding on the theology to questioning politics and even taking on world-building. Those may come up in later posts, but today I'd like to take a step back and take a look at what makes the game tick.
Please note that this will not be a review of the game. It's great and has so much to offer and I loved almost every minute of the 130 hours I've dumped into it thus far. For a great review, check out Falcon Game Review's fantastic breakdown here.
I was watching a Let's Player on YouTube a while ago, and I made a foray into the comments section after one of the videos, and where I originally expected venom about one thing or another, I actually found (gasp) intelligent conversation. But one theme kept coming up again and again.
"Great game, but doesn't compare to Origins."
"I love this game! But I still wish my Warden would come back."
"This game has some epic moments, but nothing will ever take Origin's place in my heart."
…and no, that wasn't me leaving all those comments.
But it got me wondering what it is about Dragon Age: Origins that pulls so many people back to it, this many years (and so much graphical improvement) later. I even found myself pulled toward the familiar Origin characters more than any other group of people in Inquisition, even Varric and Cassandra, who I will unhesitatingly say that I love as examples of great characters.
Was this all nostalgia? Or was there some other magic that Origins had that Inquisition couldn't hope to copy?
Two Sides of the Same Coin
Like any good developer, BioWare took its previous games and learned from them. So Inquisition benefitted from the best of the previous two games in the series, but without the same pitfalls. There are a lot of ways this installment and the series opener are the same, however. Most noticably is the return of the origins choices; each Inquisitor can hail from either an elf, dwarf, or human background, and now have the added qunari origin, as well, adding a nice flavor to the game that was first seen in Dragon Age: Origins. The differences between races weren't Thedas-shattering in the first game, and so it's the same here, but there are times when different races have different perks, making the world dynamic and alive in a way that always playing as a human might not.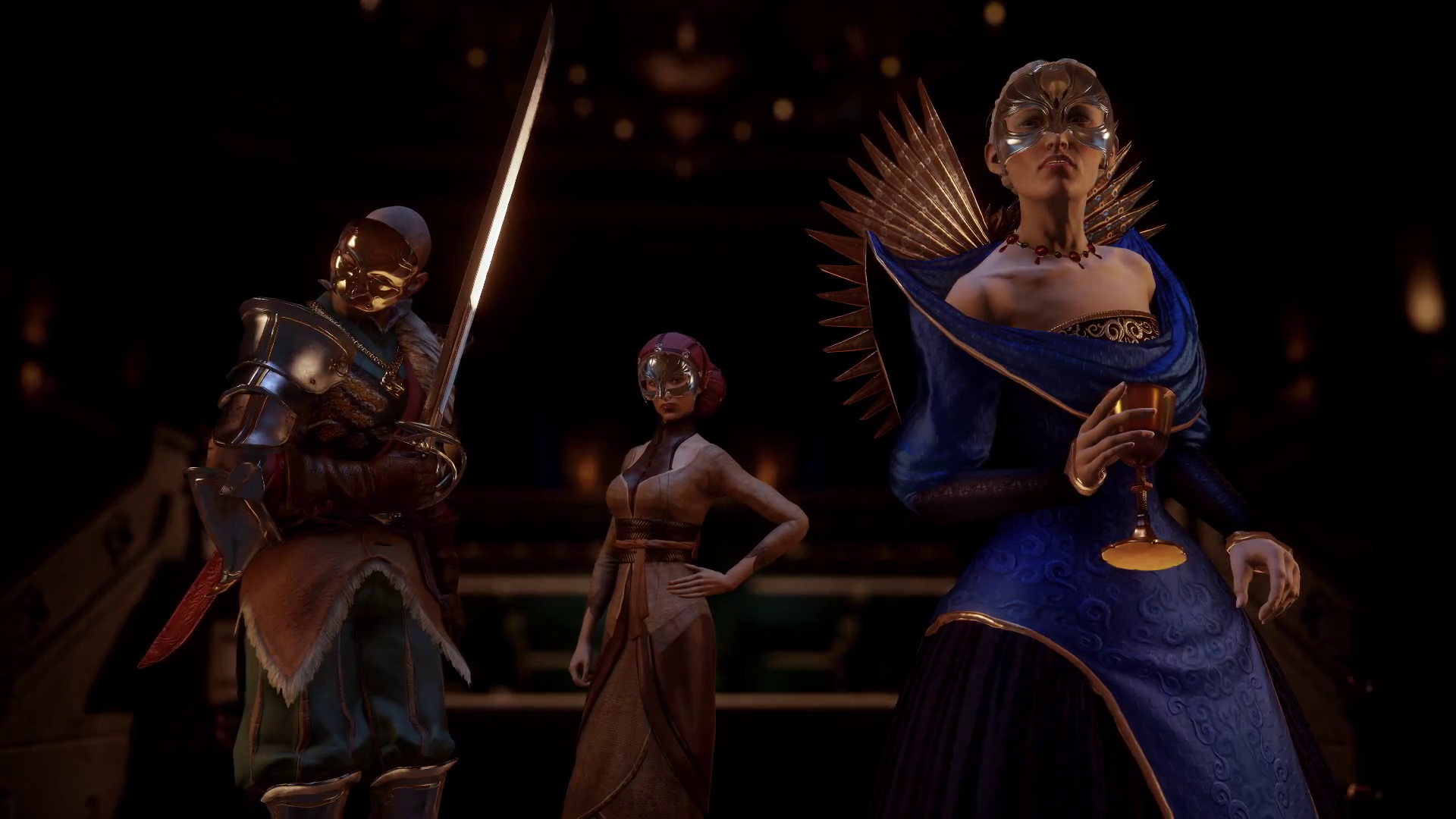 For instance, during one quest, the Inquisitor needs a certain level of approval from the Orlesian aristocracy, but elves are looked down on. Thus, an elven Inquisitor starts off with a lower approval level. Similarly, characters in Origins would also occasionally comment on the Warden's background, so it was a nice touch to add in.
Likewise, the two games had a system of choices that opened some plot options and closed others. pick origins, main quest lines (pick between two exclusive choices),
The Same, Yet Different
As fans of the series know, Dragon Age games allow the player to program the companion characters to have certain tactics that they follow, based on the movements of enemies or the needs of the other characters. But unless you were playing on a computer, those tactics were limited to organizing during "downtime" in the game; once a battle commenced, the player could not micromanage the companion's powers. In Inquisition, though, BioWare added real-time tactics, which paused the game and allowed you to survey the field and control what power or attack each companion used, and on which enemy. This improved on the console tactics of Origins and Dragon Age II, but kept the autonomy of each character, as well, as everyone had their own "playstyle" to based on how the player was building them.
Likewise, the text options were similar. Although Origins had a silent protagonist – and therefore provided the player with full sentences to choose from – and Inquisition improved sightly on DAII's system, adopting a more Mass Effect-style dialogue wheel, the moral ambiguity was captured well, like in previous titles. A new addition was the approval system. While Origins let you cheat by not taking certain companions if you thought they wouldn't particularly like the decisions you'd be making, in Inquisition all of your companions find out what you do during each quest, and weigh in on it, adding another layer of balancing social relationships to the already convoluted politics and plot being waded through.
The Deviation and the Down-Low
This series has gone through a bit of a story evolution…
Yeah. The plots of the first two games are fairly straightforward (even Dragon Age II and its many story threads), but I remember sitting and literally taking notes about what was going on in Inquisition, trying to piece together the overarching story that the game kept alluding to but never actually pinned down. That doesn't make it a bad story, it just was a story that was so much larger than the other games, and sought to expand on the world, slap down the Dalish elves, and take on its own theology, all in 60 hours. So that was a bit of a shock, but somehow managed to pull itself together enough to not be seen as hoaky or as taking itself too seriously.
But I think the big difference between the first and third installments is how the main character was portrayed on screen. The silent protagonist of Origins causes the dialogue options to be written in full: we are thus able to superimpose our own tone of voice onto them.
This is an immensely important point. Literally assigning our voice onto a non-human object – called personification – is a technique used by humans to attribute human characteristics to a non-human object. When you pretend your dog or cat is commenting on something, that's personification. When you talk about your bed missing you, that's personification. But why is this important, and how can it make one game so much more memorable than another.
The Human Touch
Personification is important, particularly when writing, precisely because it make a non-human object/animal more relatable to us. Humans relate to humans better than to any other type of thing, living or inanimate, and so when we can see human characteristics in something, we are more likely to relate to it.
If our dog looks at us when we take our fourth cup of coffee, and we say, "I know, I know. I shouldn't have anymore. You're just looking out for me"… all of a sudden the dog isn't just looking at us. The dog is commenting on us, and interacting with us like a person would. Or, at least, that's how we interpret in subconsciously. And so the dog goes from being a "dog" to being our "friend." Personification heightens emotional connection.
This happens in Dragon Age: Origins each time you need to give your own voice to one of the six sentences available for the Warden to use as a response. But now, it's your voice. It's your emotion. It's your way of talking.
It's you.
So while I certainly loved hearing Samantha Traynor's voice come out of my Inquisitor, I was simply controlling a character. In this case, I wasn't superimposing my own voice onto the character, and so I wasn't being forced to put something of myself into the character on screen. Controlling the lines someone says isn't the same type of emotional interaction as personifying an object. Instead of drawing parallels, however subconsciously, between ourselves and the character, we are "only" able to empathize with him/her.
What do you think? Are silent protagonists really all that different from voiced ones? Do they have any benefit? Have you played these two games? Do you have a preference? Which is it, and why? Let me know in the comments!
Thanks for stopping by, and I'll see you soon!
~ Athena
---
Is your subscription to our blog not enough? Do you want more AmbiGaming? Of course you do! So you should definitely book us a face on our Facebook page and follow us on Twitter @TheAmbiGamer and say hello! You can even find us on Google+, if that's your thing, and if you're really adventurous you can check out our Let's Plays.