Dear BioWare,
My name is Athena, and I'm a huge fan of your work. I might have arrived a little late to your party, but once I saw what it was about, I jumped in and participated with gusto, which is a sort of big deal for a quiet person like me.
Dragon Age: Origins was the first BioWare game I played (and is my favorite game of all time), and it opened the door to the other amazing IPs you've created over the years. Honestly, even though Mass Effect came out before Origins did, the Dragon Age game was the gateway game into your science-fantasy universe, simply because I thought to myself, "Oh, look. BioWare made a game that takes place in space! It's probably great and I should play it."
I'm a simple gamer that way.
I've loved the Dragon Age series, even with some of the minor issues Dragon Age II had, and some of the over-sprawling of Inquisition. Your prowess for designing good characters regardless of gender, nationality, or sexual orientation, and your amazing storytelling ability has always kept me coming back for more.
I admit I was a little disappointed with Mass Effect: Andromeda, although not because it's a bad game. It's just not quite what I wanted from a BioWare game. And then I heard about Anthem, and I was both excited and wary. After all, you must know that this is the game that is somewhat blamed for some of the mishandling of Andromeda. Part of me wants to see it succeed, but part of me also doesn't, because it's still not what I want from a BioWare game. What about your fans who love RPGs and good stories over shooters? What about your fans who are afraid of seeing the originality synonymous with BioWare slowly drain away into another "Like COD but…" developer?
Well, I have hope. A fourth Dragon Age has been confirmed. You've been banged around a lot over the past few years, being absorbed by EA and then getting slammed after Andromeda's release. So I thought I'd write to you and ask you directly for what I want from a BioWare game, particularly one in the Dragon Age series.
1. Reset the Size
Bigger isn't always better. I know you were panned after Dragon Age II for making the world too small, but it was frankly a brilliant move to avoid power creep. I think most of the anger was due to the copy/paste look of the environments, not the actual size of the game. Inquisition is… well it's huge. And empty. Big worlds are not fun to explore if they're empty. Dragon Age: Origins struck a good balance (most of the time), so I'd love to see you trade a beautiful, sprawling, but ultimately empty, world for one that's smaller but much more full and alive.
And it's okay if the game is shorter, too. Be a trend re-setter and show that games don't need to be hundreds of hours long to be worthwhile!
2. Meaningful Side-Quests
I mean, I love returning rings of deceased loved ones to their mourning families as much as the next person (that is to say, hardly at all), but if I'm going to trek my little elf self halfway across the world, I'd really like for it to be meaningful to the plot, moreso than just getting a pat on the head and being told I let someone's heart rest a little easier.
Again, I reference Origins, this time for its Chantry board: these were quests that were overall meaningless to the overarching plot, but it was pretty clear that you'd just be getting paid or gaining experience. And they were usually close by or on your way to something else (again, most of the time). Please don't make "grinding" quests more inconvenient than they have to be.
3. A Believable Cast of Characters
You do this better than most, so please (continue to) write good characters who just happen to be (fill in the blank color, race, gender, orientation, etc.).
Oh, and a side-note about romances: if you're going to animate one character with full-on sexy time, please animate the same level of detail for all the characters, or do the cut-away thing that you did in the original Mass Effect trilogy or in Dragon Age: Origins.

You know it's gratuitous and all fan service, so please serve all your fans equally, whatever you choose.
4. A Dog
Please? I have no in-game reason for this, other than I really liked the mabari in the first two games.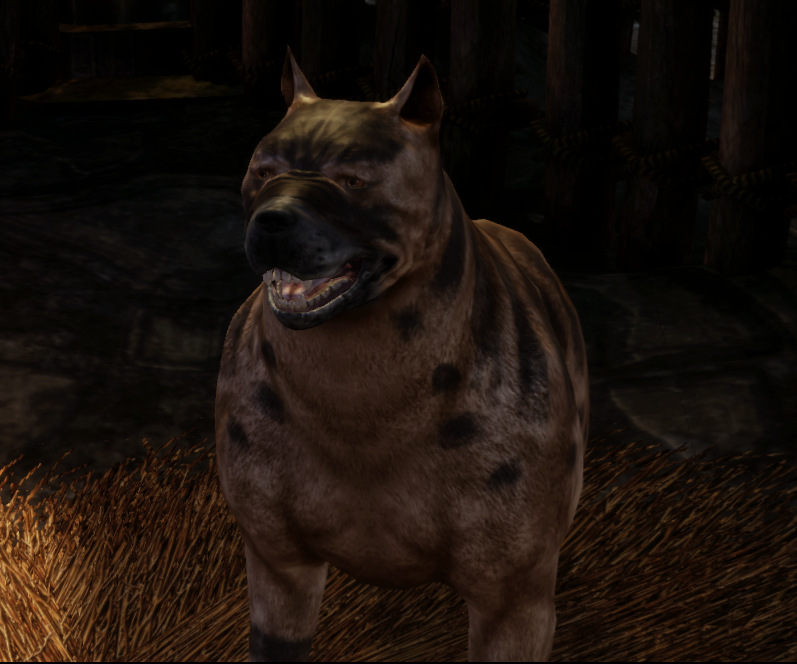 5. Complex Villains
We need more Sarens, Loghains, Architects, and Arishoks, and fewer Corypheus's, if you catch my meaning. Each line of dialogue from the first three gave us insight into their characters, and gave us reasons to both like and dislike them. Deciding what to do with the Architect was one of the hardest choices I had to make, because he wasn't completely evil  and often made really good points about his actions. He had great intentions but fumbled the execution. He wanted to stop Blights, but wound up starting one, instead (which the Warden couldn't have known). That, in particular, was a great way to pit the player's knowledge against the "role playing" aspect of the game.
Or what of poor, misguided Saren, trying to be a hero and save the galaxy, only to be indoctrinated by the Reapers? Or Loghain, who wanted to save the country from Orlais so badly he didn't see the Blight on his doorstep?
And then there's Corypheus, who just wanted to make sure we all knew how bad a guy he was. The only time we ever get any backstory into him is during the (optional) quest to the Temple of Dumat. Characterization is so important; it shouldn't be relegated to the list of optional quests, especially with such an interesting backstory.
Did he fight against the Chantry because he didn't want anyone else to be as disappointed as he was to find the Golden Throne empty? Did he really think he was the Maker's punishment? Was he just driven mad by the magic that allowed him to enter the Golden City in the first place? Was he so underpowered because of Hawke's actions in Dragon Age II? No one knows! And that's a shame. Tell the villain's story, too!
5.5. A Relationship Between Hero and Villain
The Wardens took the death of the king personally because that particular battle wiped out the Ferelden Grey Wardens. Hawke took Arishok's aggression personally because it involved his/her home city and friend/love interest. Shepard took Saren's betrayal personally because of the mess on Virmire.
To quote Marjolaine, it's more fun when it's personal, isn't it?
6. Combat Adjustments
I'd love to have a little more control over my party members than we saw with Mass Effect: Andromeda. Firstly, I liked being able to cycle through the different characters in real time as needed (in Dragon Age), and being able to orchestrate combos by calling battle orders to my squad (in Mass Effect). Likewise, I also liked being able to tinker with each character's tactics as in Dragon Age: Origins and II, so I had a team that – selfishly, I suppose – worked for my playstyle.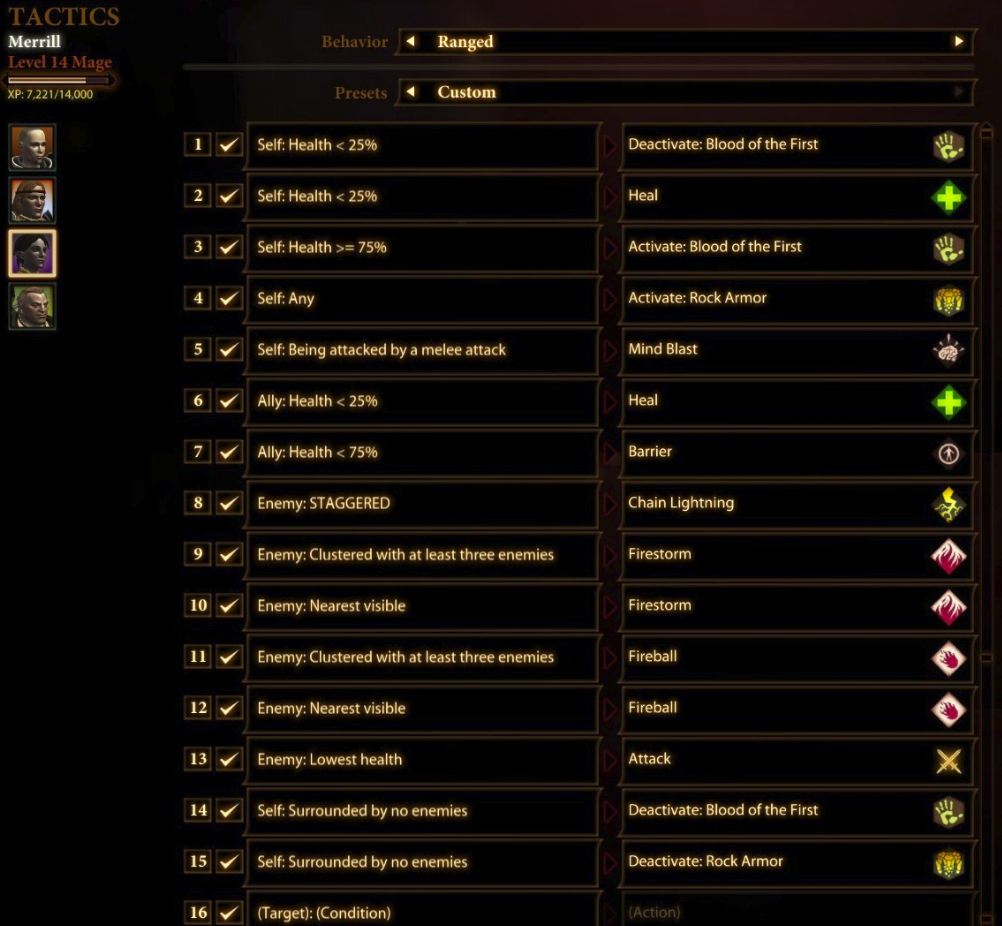 Likewise, I'd also like to see a little more freedom with how I build my character, again like Origins. I think if a player wants to build a dual-wielding rogue who can use two longswords and wear heavy armor all while dismantling traps, that should be allowed. I'd love to go back to tinkering with stats so the character can really be mine. It's not difficult to learn how to level characters (I learned it on the fly), so newcomers will be able to figure it out, too, I promise.
7. A Silent Protagonist
Please, for the love of the Maker, go back to silent protagonists. I want to see what the person is going to say and not have a dialogue wheel making it easy to mash a button through all the "good" or "bad" options. No voice acting means more dialogue freedom and more chances for the player to project onto the character. There's a reason people love their Warden more than any other main character in the Dragon Age series so far.
7. Party Banter
I'd love to see this continue. It's a great way to fill up the time walking from one place to another, and also lets the players learn about the characters and the world they're in, without resorting to information dumps in cutscenes. Plus, seeing the characters develop relationships with each other is fun and makes the world come alive, as you know. It tells us about the character, but also tells us about the society we're in.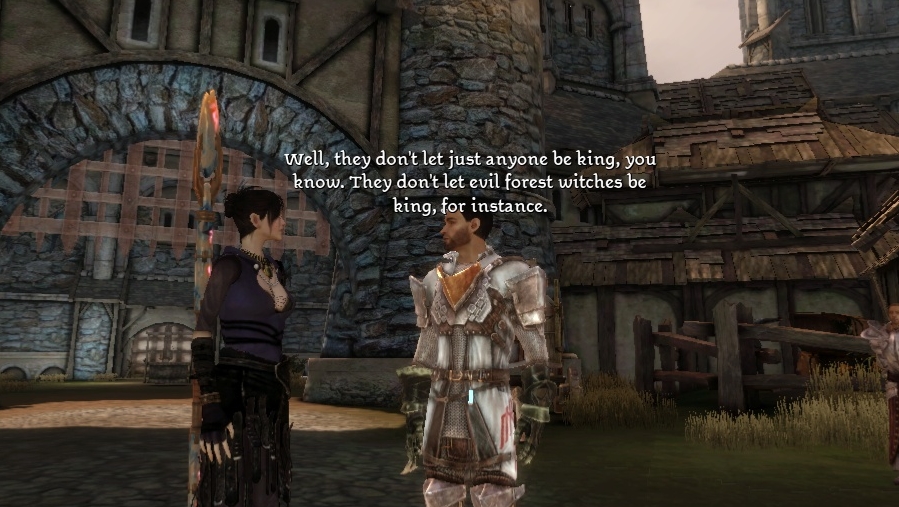 8. Party Members That Disagree
Which leads me to this. I really loved the friend/rivalry meter from Dragon Age II, because everyone isn't going to agree with you all the time, and it's possible to disagree with someone and still respect them. This was refined a bit in Inquisition with the approval/disapproval ratings, and folks disapproving of things the Inquisitor did, but no actual meter depicting approval/disapproval. This is great. I'd even like to see it go a bit further, with party members reacting to you as their "approval" rating dictates. If someone really hates the playable character, why would they romance them?
That would upset a lot of people, I know, but it's something interesting to think about.
9. Displays for Armor/Weaponry at the Main Character's Base of Operations (if applicable)
This might seem silly, but players always wind up accruing some really awesome-looking armor or weapons but that eventually aren't as strong as other items, and then we never get to see those awesome-looking things again. Could I possibly bother you for a few customizable armor stands or sword plaques at our main character's home?
Final Thoughts
I of course have a few other really random requests that will never happen, like wanting to have concrete, on-screen proof that my Warden and Leliana are happily retired together, and to see both the Dalish and Chantry faiths explored a little more, since the Dalish gods seem to be being set up for a fall, and I'd love to see how the Chantry handles a similar shake-up, but I know my Warden will not see a Playstation 4 (barring Origins remake), and the plot of the game I leave in your capable hands.
Thank you so much for listening, and I'm looking forward to my next adventure in Thedas!
With love and respect,
Athena
What about you? Do you have any thoughts on the announced Dragon Age game? Have you ever wanted something specific from an upcoming game? What was it? Let me know in the comments!
Thanks for stopping by, and I'll see you soon!
~Athena
What's next? You can like, subscribe, and support if you like what you've seen!

– Support us on Patreon, become a revered Aegis of AmbiGaming, and access extra content!
– Say hello on Facebook, Twitter, and even Google+!
– Check out our Let's Plays if you're really adventurous!