We're back with our "Let's Talk About…" series! Check out the previous chats here.
Let's Talk About… our Favorite Villains
Well, it depends what you mean by "villain." I'm always a fan on the complex villain. You know, the one who has a backstory and good intentions, or the one who really and truly thinks he or she is doing the right thing. Of course, having a villain who elicits anger or frustration can also be strangely satisfying, as well.
I might consider a person like Handsome Jack to be a particularly good villain, since he truly believes he is (and may well possibly be) the hero. I usually find villains like Saren and Loghain to be interesting, and I really, really wanted to punch Ghirahim pretty much any time he appeared in Skyward Sword, even though he might have had more going on beneath the surface than originally surmised.
But let's talk about another villain, one that I mentioned I was a little disappointed in not too long ago: Corypheus from Dragon Age: Inquisition.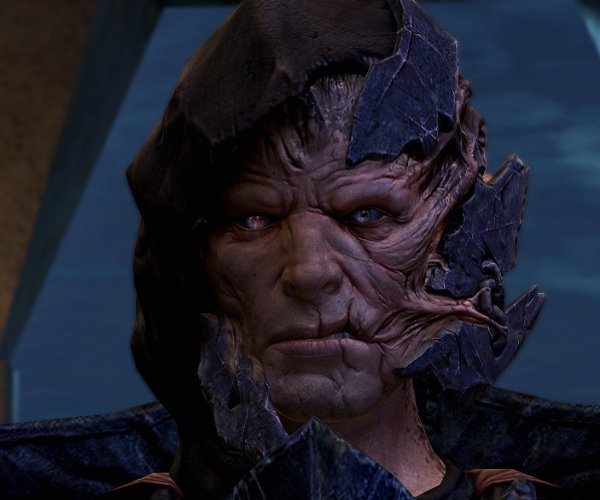 Oh, hello.
See, I wasn't really fair toward poor old Corypheus last time. Don't get me wrong, he's still a bit underwhelming as far as I'm concerned, mostly because he wasn't given too much of a backstory and yet has so much backstory that could have made him a little more interesting.
But I digress.
When people discuss Corypheus, usually his ineptitude is described as either being underwhelming, or being exactly what Dragon Age: Inquisition needed. He was a guy there to push the plot forward and set in motion events that rocked Thedas and started a bit of a schism in the Chantry and pushed a nobody into the role of Inquisitor. His boss battle wasn't particularly difficult (insofar as I don't think my Inquisitor died, which for me is saying something), and he was just… irritating.
And yet…
Drop a mountain on his head? He gets up and comes back. His plan to destroy the world backfires? He comes back and taunts you. Foil his plan at every turn? This guy just keeps coming.
You have to hand it to him, though: the guy's dedicated and has an unbreakable will.
And he does something that makes him a pretty good villain in regards to "story arc" of Inquisition. His actions cause the creation of, well, The Inquisition. The Inquisition that, in its own DLC, begins to cause problems in its arrogance and power. The Inquisition that, like the Chantry, has the best of intentions, but…
…well. I'm not going to spoil it. And I've meandered away from talking about Corypheus, haven't I?
Love him, hate him, or love to hate him, even though Corypheus isn't the most powerful villain, he is exactly what the story of Dragon Age: Inquisition needs to propel the story to its satisfying conclusion.
What do you think? Is Corypheus a "good" antagonist? Or is he just sort of annoying? Why not both? Which villain do you think gets less credit than he or she deserves? Let me know in the comments!
Thanks for stopping by, and I'll see you soon!
~ Athena
What's next? You can like, subscribe, and support if you like what you've seen!

– Support us on Patreon, become a revered Aegis of AmbiGaming, and access extra content!
– Say hello on Facebook, Twitter, and even Google+!
– Check out our Let's Plays if you're really adventurous!