A few days ago I talked about my favorite antagonist in a video game. While my choice hasn't changed, one aspect of Ghirahim I (purposefully) left out was that he isn't the main villain in Skyward Sword. That role goes to Demise, as you know.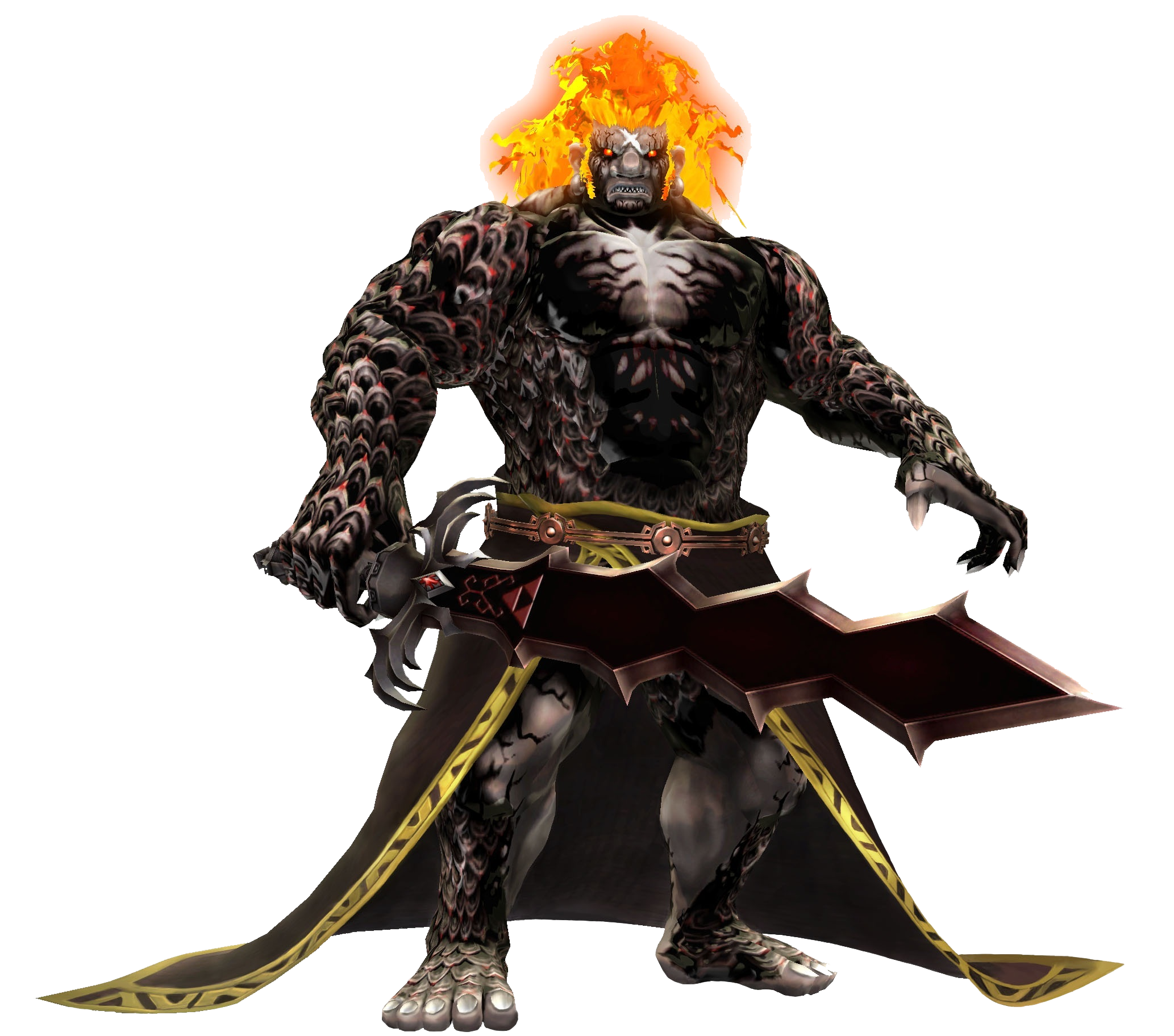 So how could a villain who is not the main antagonist come across as such a fantastic example of a villain? The answer is simple: there are three kinds of villains that exist in video games (and other storytelling media), and Ghirahim and Demise fall into two very different categories. But before we start putting villains into neat, labeled boxes, let's take a step back and talk about what makes a good bad guy.
Defining a Villain
Generally, villains are seen as the antagonist of a story, whose sole purpose it is to to have a negative effect on other characters. While villains can also be the protagonist of a story, for our purposes we are going to keep with the former idea of villainy. Villains also tend to set into motion the conflict that sets the hero/heroine on his/her quest, and defy the hero/heroine whenever possible, making reaching their goal as difficult as possible.
To this description, I would add that a villain is the one who propels the story to its satisfying conclusion. Under this definition, I pose that there are only three types of villains found in stories: the evil villain, the flawed villain, and the impetus villain.
The Evil Villain
Evil villains are driven by hatred, greed, anger, and similar cruel desires. They stand alone and set up the problem of the story and bring it to its satisfying conclusion. Evil villains are, of the three types to be discussed, the most powerful. They create the beginning of the story, directly affect the middle, and propel us to the end. These types of villains are strong enough and powerful enough to stand on their own. Ganon from Ocarina of Time, the Reapers from Mass Effect 3, and even villains like Maleficent from Sleeping Beauty and Voldemort from the Harry Potter series fall into this category.
For example, Ganon from Ocarina of Time sets the main conflict of the game into motion, then causes Zelda to flee with Impa, and is powerful enough to create every single problem Link has to face without the help of anyone. He never loses his power during the course of the game, and so is able to single-handedly propel the game forward.
So Ganon – at full power – does not require help, but when he is weakened, for instance in Twilight Princess, he requires the help of an impetus villain to restore him to full power and propel the story to its conclusion.
TL;DR: An evil villain is powerful enough to begin a conflict and propel the hero through the entire story to reach a satisfying conclusion. Or, if the evil villain is not at full power, he or she is instead the driving force behind the scenes until the impetus villain (discussed below) is able to return the evil villain to full power.
So let's take a look at these other villains.
The Flawed Villain
These are the villains that never intended to be villains. They are driven, not by greed or anger, but by some character flaw (e.g., fear, selfishness, arrogance, delusion). However, flawed villains, unlike evil villains or even impetus villains, display a certain amount of humanity. The audience knows part (or all) of their back-story and can claim an understanding of the "why" behind their actions. Flawed villains create the conflict in the story and propel the plot to a certain point, but are not able to bring the story to a satisfying conclusion. Wander from Shadow of the Colossus is a fantastic example of this type of villain. He is driven to his actions out of love for Mono, which leads him to perform actions that set off a series of rather unfortunate events, but nothing was ever done with malicious intent.
Another fantastic example of a flawed villain is Saren from Mass Effect. While I haven't read the books based in the Mass Effect universe, his story from the game is compelling enough to discuss. Saren is a Spectre (or SpecTRe if you're so inclined) who ultimately becomes indoctrinated by the Reapers and is the "bad guy" in the original game. But Saren's actions aren't driven by a desire for power, or revenge, or even a desire to destroy anything. The reason he acts how he does is because he wants to save organic life, and cannot see any other way to accomplish that other than by means that Shepard fights so hard against (how's that for avoiding spoilers?). But, he is the vessel through which the "evil villain" Reapers are acting, since they are not yet at their full power.
But flawed villains are never enough to propel the story to its conclusion. In Wander's case, Dormin could be seen as the impetus villain, enabling Wander to continue his journey and forcing the story to its conclusion. After all, if Dormin hadn't completely corrupted Wander's body, Wander would not have succeeded in his quest to revive Mono. And Mass Effect would have fizzled to its end without Saren working for the Reapers, only for the Reapers to step in and "help" Saren at the end, forcing Shepard to take on the Reaper threat instead of just dealing with a rogue Spectre.
TL;DR Flawed villains are the ones we can relate to the most, even if we don't agree with their actions, because they are not driven by hatred or other negative reasons. Instead, they are often acting out of good intentions, although these intentions may, as the saying goes, pave the road to a rather awful place.
The Impetus Villain
The third and final type of villain is only seen when there is a flawed villain or a weakened evil villain, and that is the impetus villain. After the flawed/weakened villain sets the stage for the story and carries the plot as far as he/she can, the impetus villain drives the story to its satisfying conclusion. The impetus villain can also act on behalf of a weakened evil villain until said villain has regained power. There would also be no "happily ever after" without them (in stories that have these types of endings).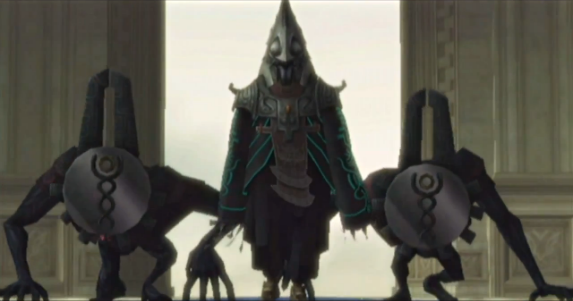 Examples of these villains are Ghirahim from Skyward Sword (to a point), Zant from Twilight Princess, and the robots from Mega Man, among others. For a non-video game example, Gaston from "Beauty and the Beast" would fit into this category, as well (with the Beast being a flawed villain).
TL;DR The impetus villain (often) doesn't have the noble intentions of the flawed villain, either because they have been duped by the evil villain (e.g., Zant) or they have their own agendas that siding with the evil villain would fulfill (e.g., Ghirahim).
Since Ghirahim was the catalyst for this post to be written, let's focus on him.
Piecing a Villain Together
Ghirahim has the characteristics of an evil villain: he is arrogant, power-hungry, and is constantly in Link's way. He wishes to be greater than he is, and is the exact opposite of the virtuous Link. All symbolism of the Light vs. Shadow Link aside, Ghirahim is not the lone "bad guy" of the game. After all, it is the promise of Demise's incredible power that has driven Ghirahim to his actions; his own power is not enough to succeed. For that, Ghirahim actually needs Link (an unwitting and unwilling accomplice) to release Demise in order to complete his goal.
But Demise is not powerful enough by himself to push the story to its conclusion, either. He needs Ghirahim to constantly meddle in Link's affairs (inadvertently making him more powerful), and challenge him to the grand penultimate fight of the game. Ghirahim even turns into the dark Master Sword that Demise wields during the final battle with Link. Demise would literally be void of a weapon without Ghirahim. And Link would not be driven to become more powerful or create what would become the Master Sword without Ghirahim's meddling. So, without Ghirahim, not only would Demise not regain his power or have access to a weapon, but Link would not have been driven to become to hero Zelda needed. Thus, it is through Ghirahim's actions that Link and Demise can meet for the ultimate battle, propelling the story to its satisfying conclusion.
Of course, many different villains can be described in many different ways, but these categories could be applied to almost any villain found in a story, whether it is a book, movie, or video game.
What do you think? Can we really streamline types of villains into three categories? How would you categorize Ghirahim and Demise? Who is your favorite villain, and where do they get sorted, based on these descriptions? Let me know in the comments!
Thanks for stopping by, and I'll see you soon,
~ Athena
PS Shout-out to The Shameful Narcissist: I've been pondering how to make this idea relate to video games for a long time, ever since we chatted about it!
---
Is your subscription to our blog not enough? Do you want more AmbiGaming? Of course you do! So you should definitely book us a face on our Facebook page and follow us on Twitter @TheAmbiGamer and say hello! You can even find us on Google+ if that's your thing, and if you're really adventurous you could check out our Let's Plays.