We're back with our "Let's Talk About…" series! Check out the previous chats here.
Let's Talk About…: the Super Nintendo
Hooray for punny titles, right?
Out of all the consoles we had, this one had the smallest collection of games stacked next to it. I honestly don't know why. We didn't even own A Link to the Past. Can you believe it? I only ever played it at a friend's house, and I certainly wasn't able to beat it that way….
I'm really not sure why this console didn't get as much love as the NES. Well, I do. This one was even more technically my brother's, and it was allowed to live in his room as long as he kept his grades up. So he traded his games or whatever without our knowledge, I guess.
At any rate, we had a bunch of really dorky games for it by the time it was no longer specifically "his." No Zelda. No Star Fox. No Mario. It's like my parents looked at what we had on the NES and tried to get "different" games. Thus, we had things like Mario Paint. We also had Street Fighter, which I guess I wasn't supposed to play, but I would "sneak" into my brother's room and play anyway.
And then there was Wing Commander. I don't know why I played this game so much, because I was so bad at it.
Fun story: I couldn't remember the name of this game and spend quite a while trying to figure it out. I eventually searched for "snes space game" and the above image popped up. I guess it's a testament to how often I stared at this screen that I instantly knew this was the game. And I was instantly flooded with memories of my poor, doomed pilot…
The only thing I remember about this game was the few cutscenes I saw. There was one that was a mission briefing, and one that happened when the playable character died. I saw both of them a lot, because the playable character died a lot.
Anyway, when the character died, there was an unskippable funeral cut-scene that went on and on and on but without voice acting and with a lot of dialogue-reading. I remember wondering if the woman (was it Spirit? I can't remember) who said she was really going to miss the main character was somehow attracted to him, but I never found out.
And then they shot the coffin into space with a 21-gun salute, complete with "pew pew" sounds.
I asked my brother why they did that, because the coffin would be floating around forever, and he told me it was so they didn't have to store the body on board the space ship because they'd run out of space if people kept dying and then there'd be dead bodies everywhere. When I looked duly traumatized, my father interjected and said that it was respectful, like a burial at sea, and then helpfully added, "just think: if he passes a planet he'll get sucked into it. Then it'll be fine and he won't be floating around anymore."
I think my mother told them both to stop and leave me alone at that point.
But I learned a lot that day.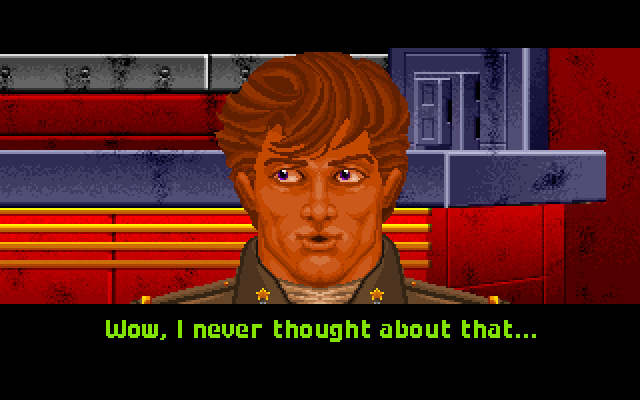 Man, now I sort of want to track a copy of this down and hang with the guys outside of the hangar again.
Does anyone else have any amazing Wing Commander memories? Also, please tell me about all the amazing games I was only able to sample at a friend's house!! Or, you can let me know your favorite or odd SNES memory in the comments!
Thanks for stopping by, and I'll see you soon!
~ Athena
What's next? You can like, subscribe, and support if you like what you've seen!

– Support us on Patreon, become a revered Aegis of AmbiGaming, and access extra content!
– Say hello on Facebook, Twitter, and even Google+!
– Check out our Let's Plays if you're really adventurous!