We're back with our month-long Mass Effect challenge! For previous days, click here.
Mass Effect Month, Day 24: What is your opinion on the genophage?
Yikes. What do I think of a biological weapon used to control the population of a species that attempted to take over the worlds and colonies of other species in order to support their exploding population, often being aggressive and without remorse?
Well, isn't that a loaded question.
Obviously, using a biological weapon against any species is never okay, and I am certainly not in favor of using a weapon that would so drastically and devastatingly limit a species' ability to reproduce to the point of extinction. However, like all conflicts in the Mass Effect universe, the problem is more nuanced than Wrex's proclamation that "to thank us for wiping out the rachni, they neutered us all."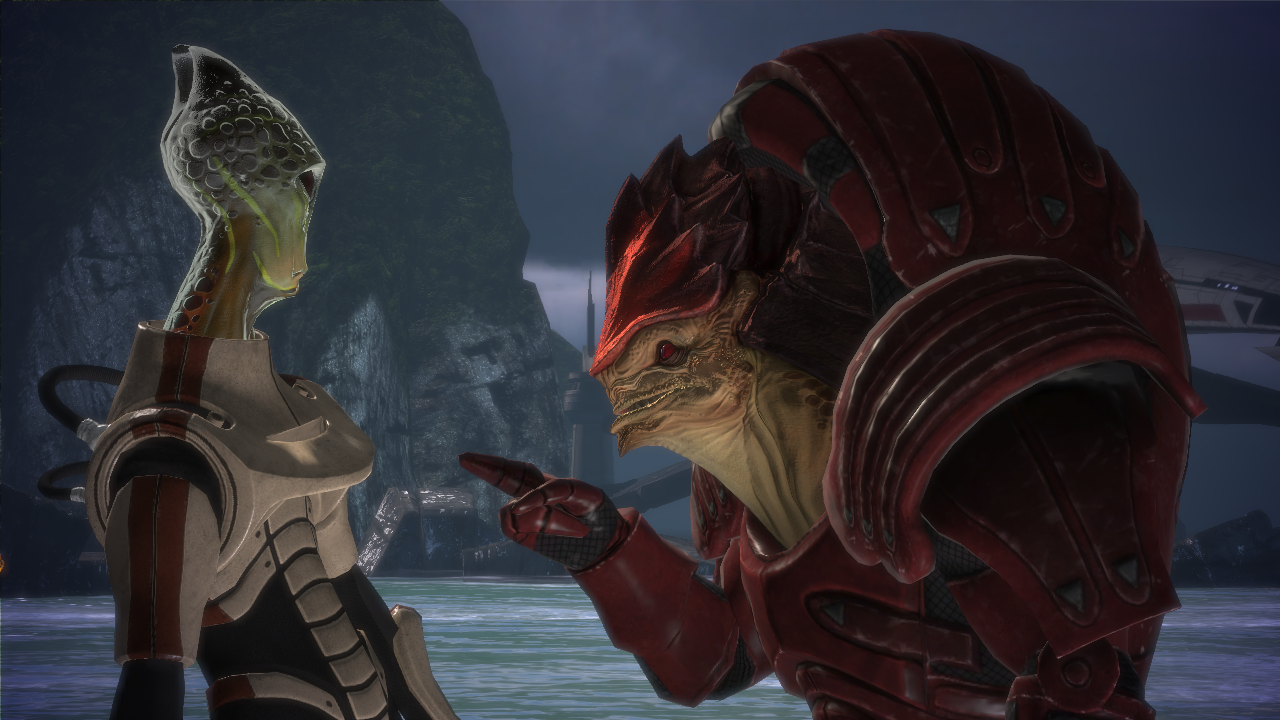 Using the genophage was a desperate measure, and to be fair, the salarians only planned on using it to deter attacks, whereas the turians sought to destroy the krogran during the Krogan Rebellion. The krogan, on the other hand, had overpopulated their own worlds and begun conquering already-inhabited planets, and refusing self-imposed breeding constraints and, perhaps more dangerously, flouting the governmental authority of the Citadel Council. Faced with the endangerment of other Milky Way species, war eventually broke out against the unstoppable krogan. Unstoppable krogan who had been acting little different than a plague to the rest of the galaxy.
So what is the best solution? The krogan appeared unwilling to leave peaceably alongside the other races, and they did not surrender after military defeats. Although the genophage was a desperate measure to take, I wonder how far any of us would go to try and preserve our species, especially in the face of an unstoppable and insatiable army. Wouldn't we want to destroy them, too?
Interestingly, I also wonder if the genophage is very different from the exaltation of the kett. After all, it is modifying the genetics of another species in order to destroy it. Both, in their own way, can be seen as necessary: the genophage to save the galaxy from rampaging krogan, and the exaltation process to ensure kett survival. And yet, from the safety of behind a screen, we are able to look at these actions and be horrified by them.
What do you think? Is the genophage understandable? Is it similar to how the kett exalt members of other species? Is there anything justifiable about either of the two, or are both just abhorrant? Let me know in the comments!
I should go,
Athena
What's next? You can like, subscribe, and support if you like what you've seen!

– Support us on Patreon, become a revered Aegis of AmbiGaming, and access extra content!
– Say hello on Facebook, Twitter, and even Google+!
– Check out our Let's Plays if you're really adventurous!