You know how it goes… You're all settled in for a nice gaming session with one of your favorite, not-scary games, when all of a sudden bam you're in this situation that gives you the creeps you'd have never expected in your favorite fill-in-the-title game. Sometimes the area turns out to be a lot of nothing, and the game is either purposefully or not-purposefully feeding on our well-honed fears exploited by horror games. Sometimes it's an Easter egg.
Sometimes it's supposed to be just creepy enough to let you know something is going wrong and push the narrative along a desired path. But whatever the reason, you're now on an unexpected creep-tastic ride you weren't planning on. Here are eight unexpectedly creepy sequences in games that are overall not creepy, and a little delve into what makes them so adrenaline-inducing.
Thanks to LightningEllen, one of AmbiGaming's Patrons, for the idea!
Beware minor spoilers for Gone Home, Dragon Age: Origins, Mass Effect 2, The Legend of Zelda: Twilight Princess, Grand Theft Auto IV, Metal Gear Solid 2: Sons of Liberty, RiME, and Metal Gear Solid 3: Snake Eater.
The Basement in Gone Home
Gone Home isn't, at its core, a horror game. Playing through it gives a completely different impression, and there were many times when I just knew the story was going to have a bad ending, but at the end, there really isn't anything conventionally frightening that occurs. There's plenty of horrible things happening, like the state of the parents' relationship and the state of LGBT rights in 1995, but nothing pops out, no one tries to kill the main character, and it's overall a quiet evening in an empty house.
That doesn't keep the basement from being creepy.
Because of the atmosphere of the game, and because of certain expectations within the horror genre, walking into the basement is a bit of a harrowing experience. Lights flicker off by themselves, there are more clues that push the story along, and it basically feeds into every horror expectation without the expected payoff.
The Broodmother Sequence in the Deep Roads in Dragon Age: Origins
Boy, nothing like a creepy underground maze with a creepy pink behemoth that waves sickly tentacles at you, vomits poison, and tries to crush the life out of you if you step one foot into the slimy ground near it, am I right?
Smack in the middle of Dragon Age: Origins is a venture into the Deep Roads, and underground series of roads at at one point connected the dwarven cities. Now they are overridden with monstrous darkspawn and other creatures that want nothing more than to eat your Grey Warden's face for lunch.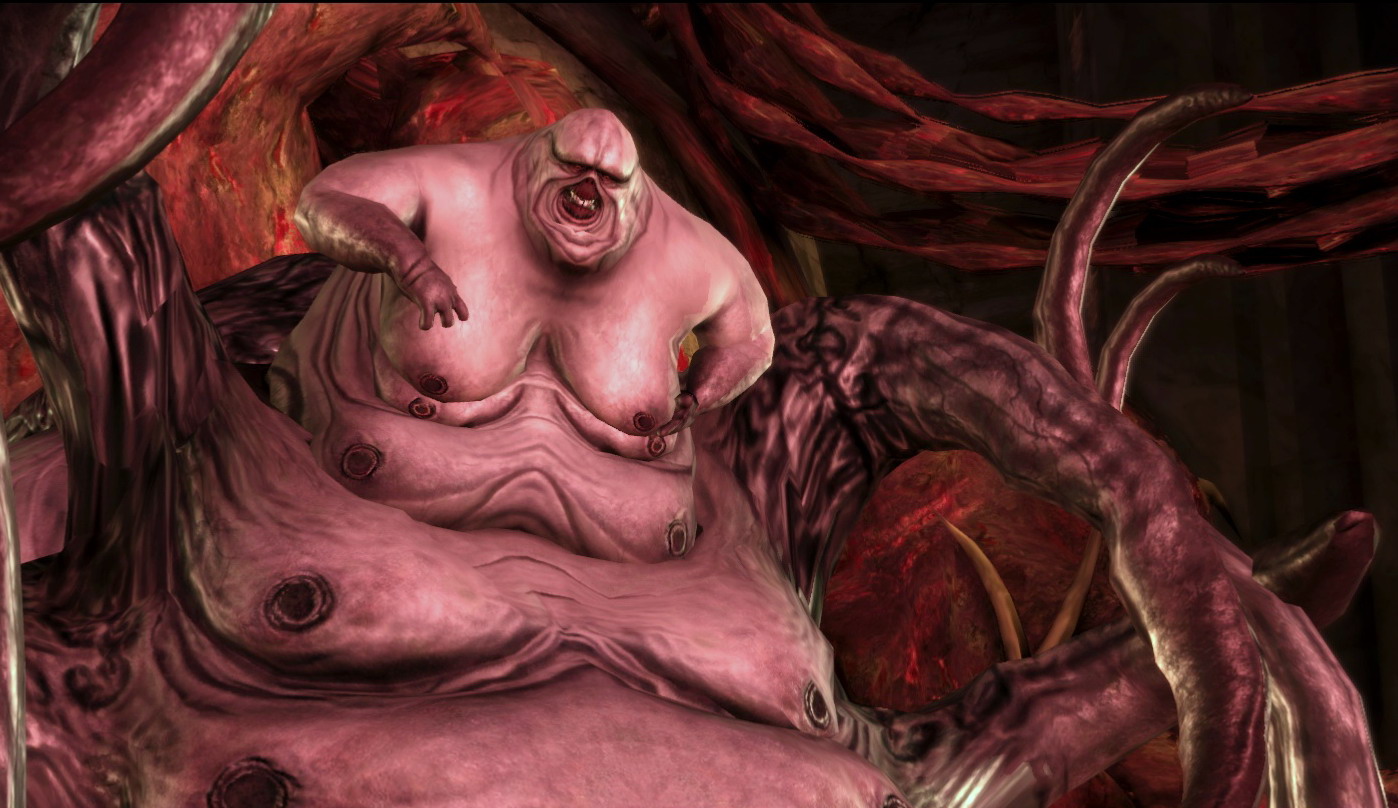 But fewer things are creepier than the broodmother sequence, which is kicked off by a whispered poem depicting kidnap, cannibalism, assault, and horrific transformations.
After that, it's wriggling, pus-filled sacks and bloody walls and piles of torn flesh. It's almost a relief when you reach the Broodmother. Except not quite.
The Collector's Base in Mass Effect 2
I mean, I signed up to play a science-fantasy RPG and suddenly I'm in a spaceship that liquefies humans right before your eyes and makes them into a giant robot.
Cool, cool. I'll be over here crying with my teddy bear.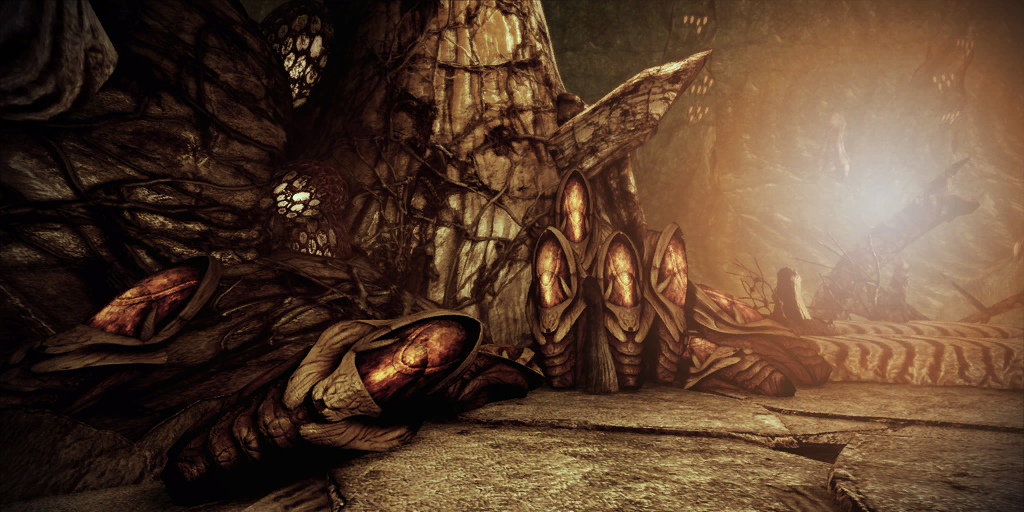 In all seriousness, Mass Effect 2 is my favorite Mass Effect game and I really did love the collector's base sequence, but the game seemed to change from science fantasy to horror upon opening the bay doors of the Normandy, complete with zombies, poisonous bugs, and the aforementioned giant robot human. It was creepy. Maybe you had to be there, but it was creepy.
Yeta's Transformation in The Legend of Zelda: Twilight Princess
Zelda games are adorable, aren't they? There isn't anything frightening about them!
Um, okay so maybe I should have had some warning. Twilight Princess is one of the darker Zelda stories, in both art style and story, but yet it still managed to maintain its quaint Zelda charm throughout. I mean, Link gets to go snowboarding with a friendly abominable snowman, Yeto, and his pleasant wife, Yeta (I suppose together they are the Yeti).
All is fairly pleasant as Link tries to help Yeto make soup to cure Yeta's illness, until Link finally happens across the cursed mirror shard he had originally come to find. Yeta tells him he can take it, only to fall under it's spell and…
I was not ready.
The Statue of Happiness in Grand Theft Auto IV
Hats off to Rockstar on this one, really. Poor Niko Bellic just wanted to come to the USA for a better life, and wound up having the same one. While Grand Theft Auto games are often irreverent, this one struck close to home for me. The real-life Statue of Liberty has stood as a symbol of hope and freedom to immigrants since her arrival in New York Harbor in 1875, and inside her base is this inscription:
Give me your tired, your poor, your huddled masses yearning to breathe free,
The wretched refuse of your teeming shores,
Send these, the homeless, tempest-tost to me:
I lift my lamp beside the golden door.
She stands for the American ideal, no matter how close or far we fall from it at times.
But in Rockstar's version, the inscription (on the Statue of Happiness's book) reads thus: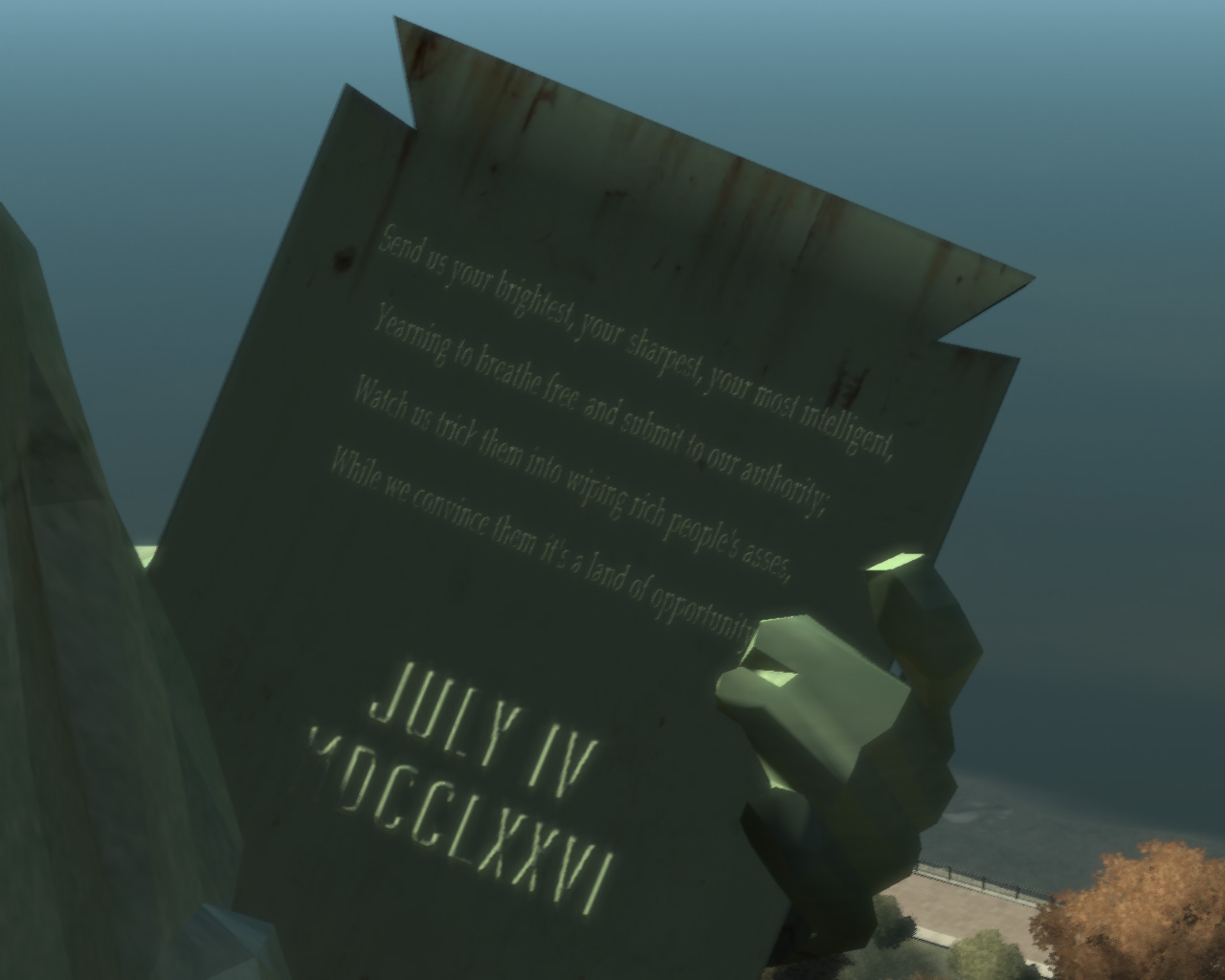 Give me your brightest, your sharpest, your most intelligent,
Yearning to breathe free and submit to our authority,
Watch us trick them into wiping rich people's asses,
And convince them it's a land of opportunity.
I get it. Ha-ha, make fun of the United States. This isn't a political blog, but I will say that seeing the Statue of Liberty's message so bastardized was a little disturbing. It only got worse when poor Niko traveled inside the statue and found a beating heart, chained up and with spikes pointing at it, ensuring that the beating heart of the country was held hostage by this idea of institutional happiness.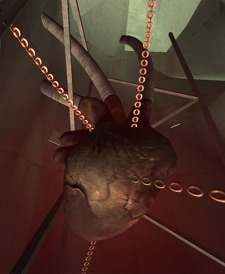 Creepy, right?
The Colonel's Freakout in Metal Gear Solid 2: Sons of Liberty
The music changes, Raiden is without his gear (completely) after being tortured, and now you have to navigate through the literal bowls of a giant robot all while trying to not freeze poor Raiden's butt off. And then The Colonel starts spamming you with codec calls, and… Things get extra eerie.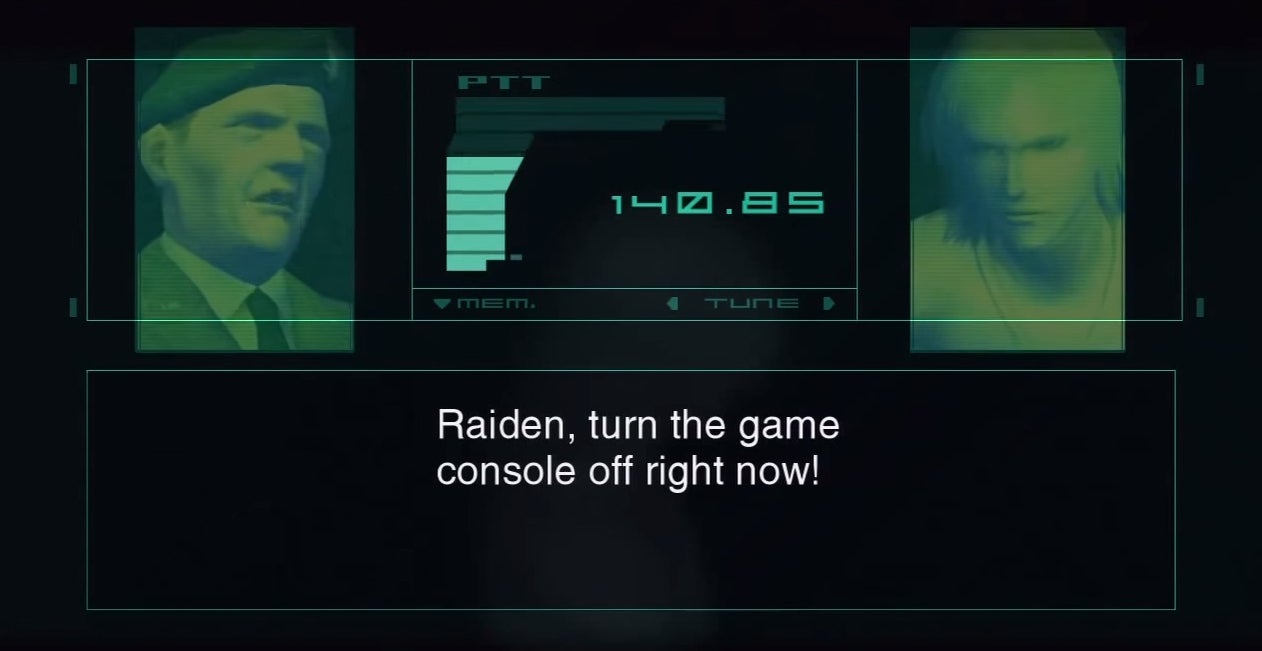 From talking about alien abductions, to talking about some things that sound rather personal and private, to utter nonsense, probably the creepiest call is when The Colonel calls and starts saying Japanese names at breakneak speed.
From there, things get even weirder, with pictures of women invading the codec and radar, and the Colonel becoming increasingly irritable (and irritating). It was unexpected, and having this last line of support stripped away from Raiden made the whole thing more terrifying than any other part of the game.
Snake's Dream in Metal Gear Solid 3: Snake Eater
One part Easter egg, one part nightmare, there is a portion in Snake Eater during which Snake is tortured and imprisoned. He can then call people on the codec, as one does in Metal Gear Solid games, and one of those people he can talk to is Para-Medic, a medical doctor/movie buff who tells him a story about Dracula.
Turn off the console and turn it back on, and Snake Eater is nowhere to be found.
Instead, you're thrown into this sepia-toned warehouse, in control of a man with dual swords being attacked by men wielding giant meat-hooks. Kill enough of them, and your character turns into some sort of beast for a while before transforming back into a human. This goes on and on and on….
Until Snake finally wakes up in his cell. Some claim this isn't in the Legacy collection for PS3, but I haven't yet played that version so I can't confirm if this Easter egg was kept in the game (rumor was that it was a teaser for a game that was never released).
But still. Doesn't mean it wasn't disorienting and creepy at the time…
Honorable Mention:
Bargaining (Chapter 3) in RiME
All I have to say is that everything was just fine and dandy until these shadows showed up and started following and hissing at me.
What about you? What pleasant games surprised you with an unpleasant section? Are you familiar with any of the ones above? Let me know in the comments!
Thanks for stopping by, and I'll see you soon!
~Athena
Do you like what you've read? Become a revered Aegis of AmbiGaming and show your support for small creators and for video games as a serious, viable, and relevant medium!