"Hey, it's me. I need a favor…"
We're back with our 12 Days of Christmas Collaboration, hosted by Kim over at Later Levels!
On the tenth day of Christmas Collab, Kim asked of me: You've been invited to a swanky New Year's Eve party but have nothing suitable to wear! Which video game character do you call to ask if you can borrow an outfit?
Easy.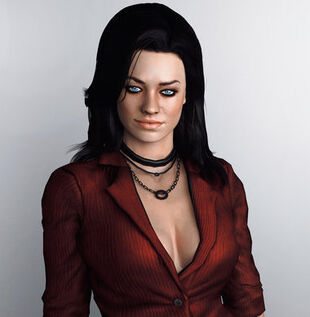 If there's one woman who probably has an impressive closet to raid, it would be one Miranda Lawson from the Mass Effect universe. While I don't quite have her measurements (I know, it's shocking to think that I don't have the most perfect female body ever conceived by genetic engineering), I'm probably close enough in height/weight that I could probably find something that worked well.
Well, except for any spandex. That's a no-no.
I thought about some of the royalty from games, but I'm not sure how I'd feel about all the pomp Zelda might recommend, or the ruffles that Josephine from Dragon Age might prefer.
Oh! I know!
Wait… oh… oh…
Let's… go shopping, shall we?
I know, I know, and I'm so sorry. But I think Leliana would be a lot of fun to shop with, if Miranda's closet didn't work out. And I rather like her style, whether she's attending a coronation or kicking butt undercover for the Divine. I'm sure we'd have a meeting of the minds and find something I could wear to a swanky party. And maybe, after all that, I'd steal that kiss, too…
What about you? Whose closet would you raid before going to a swanky new year's party? Or would you prefer to go shopping? If so, with whom? Let me know in the comments!
Looking snazzy,
~ Athena
What's next? You can like, subscribe, and support if you like what you've seen!

– Support us on Patreon, become a revered Aegis of AmbiGaming, and access extra content!
– Say hello on Facebook, Twitter, and even Google+!
– Check out our Let's Plays if you're really adventurous!