A gamer walks into a bar…
…and asks for a Ruffles.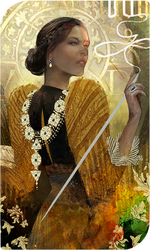 Welcome back to Spirits 'n' Sprites, a temporary bar set up and maintained by AmbiGaming! In case you missed our last fabulous game-themed cocktail we served up, you can find our special recipes here.
The Disney Princess of the Dragon Age universe, Josephine Montilyet is poised, sophisticated, and wields guilt like a knife. At her heart, she is sweet and loving, but I, for one, would not want to get on her bad side, because she would either bury me in paperwork, or Leliana would find out and I would just disappear one day…
Please do not attempt to make or partake in these drinks at home if you are underage in your country.
Ruffles
Core flavor: citrus
Ingredients:
3 oz (90 mL) fruity white wine (I'd suggest a sauvignon blanc, but any fruity white wine will do)
3 oz (90 mL) orange juice
1 oz (30 mL) tequila (or vodka, if you don't do tequila)
approx. 2 oz. (60 mL) lemon-lime soda (or seltzer)
Shake together orange juice and tequila. Mix in a tall glass (ice is optional) with white wine, and top with soda.
Named after her particular style of dress (and ruffles are, as Leliana comments, very festive, after all), Ruffles has all the sweet and sharp passion of a high-born lady from Antiva. Powerful, and yet graceful, Ruffles will have you enjoying every moment, even as you unknowingly – and happily – bend to her will.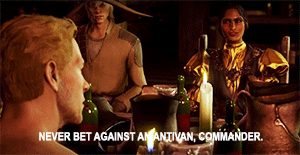 Thanks for coming! Hope to see you next month. I'm still taking requests, so if you have one, let me know in the comments! Otherwise…
…and I'm not lying, I promise… 😉
Thanks for stopping by, and I'll see you soon!
~ Athena
What's next? You can like, subscribe, and support if you like what you've seen!

– Support us on Patreon, become a revered Aegis of AmbiGaming, and access extra content!
– Say hello on Facebook, Twitter, and even Google+!
– Check out our Let's Plays if you're really adventurous!