The concept of reality is an interesting one.
We all exist, yes, but do we all exist equally? Do we exist outside of our own conception of ourselves? Does the outside world exist without anyone there to observe it? Are we what we think, or are we something more concrete than that?
Why, yes, I am talking about the existential crisis so nonchalantly brought up in Chrono Trigger, thanks for noticing!
Chrono Trigger deals with many deeper themes, including religion, but one that I found particularly fascinating is one that comes up in Zeal, and then again at the campsite: the idea that this reality that the companions are in might not be the objective, solid reality that they think they are in.
Seven Seeking
As you may recall from our last chat on Chrono Trigger and religion, seven is an important number, and it comes up often in literature because of it. Seven features prominently in the Bible, pilgrims to Mecca walk seven times around the Kaaba, the world is made of seven heavens according to the Talmud, and there were seven Rings for the dwarven kings in their halls of stone. Seven deadly sins, seven colors in a rainbow, and in folklore the seventh son of the seventh son often was born with supernatural powers. Seven, seven, seven is a winning combination at a slot machine. Again and again, seven.*
Seven is, more importantly for our purposes today, traditionally seen as a number that symbolizes seeking reality behind an illusion. It shouldn't be a surprise that Chrono and his companions, when all are assembled, total seven. Their mere existence suggests that they are trying to discover what is behind the proverbial curtain of their existence. With their quest of altering reality (via not allowing Lavos to rise) already at the forefront of players' minds, it's not difficult to entertain the idea that there could be more that this group is seeking, as well.
There are three points in particular that this band of seven is examining:
The past as a dream, as Ozzie comments
Reality as an individual creation or illusion, as the friends comment on in camp
Self as real and imaginary, as commented on in Zeal
Everyone hold on to the nearest thing that you perceive to be a hat, because we're about to bend your concept of reality using a video game.
No Sense in Looking Back
One of the first instances that suggest reality in Chrono Trigger is not all it seems is when the companions are facing Ozzie, on of Magus's minions. Ozzie, for all of his ineptitude, makes one chilling observation: the past is a dream. While on the surface this may seem like just a superficial comment meant to sound more profound than it is, this actually touches upon the idea of something called presentism.
Presentism is a philosophical concept that poses the past and the future don't actually exist. Rather, they are constructs used to describe the present, and "exist" only as a means of describing the present moment, which is slowly moving forward as each second passes. This is an idea that has been adopted with certain meditative practices: the idea that only the present exists, and all else is unreal. From a philosophical standpoint, it's interesting. Let's take a more nuanced look at this idea.
We have physical records of the past: artifacts, written records, photographs, etc., and presentism says that these things exist in the present. However, although the Parthenon is still standing in Athens, the events that we say happened there in ancient Greece are not real: they are not, after all, happening now, and so are not real. They may have been real at one point, but are not anymore. To put this another way, an event in the past is both real (because it happened) and not real (it's not currently happening) at the same time (compared to something called eternalism, which says that past, present, and future are equally real when compared to each other).
For an illustration, I offer two pictures found on this site:
Let's take this further. An average human day, or even an average human week or month, does not leave behind ruins or treatises to prove that the events occurred. Most of our lives are only recorded in our own memories. Unfortunately, memories are not infallible; many things can happen to blur the memories of an event, but basically the breakdown can occur when coding the memory (the memory is being formed) or when retrieving the memory (when you're remembering it).
And our miraculous brains do something fascinating in these instances of memory glitches: they make up details to fill in the gaps. So, if you remember an event differently than it occurred, that is your past, insofar as it is the one that is influencing your present.
Your own fabrication of your past is, to you, real, and yet isn't technically real in the sense of what objectively happened, as it is viewed through the cloudy lenses of emotions, faulty memory retrieval, and the passage of time. Thus, your past truly is like a dream: something real, that happened and you remember, but also not real at the same time.
The World is Just Illusion
Feeling like you're standing on shifting sands yet? What if I told you that not only is your past an interpretation of the world, but reality itself is only as real as we make it to be, because it must be observed in order to be real?
In the game, the companions remark that they believe they are observing the final thoughts of an Entity that is dying. My question was always this: why did the events have to be observed? Did this mean that the events had already happened, or were they happening now because they were being observed?
Maybe it was both.
Some of you may have heard of John Wheeler's delayed choice experiment*, but for those of you who haven't, what you need to know is that this was a series of thought experiments conducted in the late 1970s by theoretical physicist John Wheeler that proposed that light (which we know can be a wave or a particle) doesn't "decide" what it is going to be until it is measured, meaning that light is both a wave and a particle until we observe it and (basically) change its state of existence.
What you also need to know is that it is only recently that we've developed the technology to test and prove this theory (full article linked here and more accessible article linked here), so it turns out that Mr. Wheeler was correct: reality (or at least part of it) must be observed in order to exist.
Another way of thinking about this is: is a tennis ball in a dark closet green, or does it have the potential to be green upon being observed? Does a tree, indeed, make a sound if nothing is there to observe it?
Before I completely lose you, the point I am trying to make is this: if our observation of reality is integral for its realness, then reality may only be as real as we make it.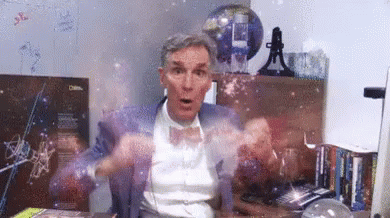 This leads to the idea that each person is experiencing a different reality than the person next to him/her. But how can that be possible?
Well, say we both went to a seminar on symbolism in role-playing games. We would each bring our own experiences from playing RPGs, our life experiences, our education, our personalities, and the other unique things that make you "you" and me "me."
Through this lens, we would hear the seminar. While hearing the same information, you and I might come away with different experiences, different insights, and different interpretations based on our respective pasts, and yet we were both sitting in the same "reality" at the same time, listening to the same words from the same speaker.
For a more concrete example, go back through the comments on this blog (or your blog) and see what people talk about. Each person takes away a different point from what you've written, because something individual resonated with them, and sometimes that "something" was not what you would have expected. So even your readers are experiencing your own articles differently from one another.*
Even the realities that you created on your site are changed, based on who is observing it.
You Are as Real as I Believe You Are
Speaking of creating realities, I pose one final thought experiment, brought to you courtesy of the kingdom of Zeal: if our observations act upon events in the world, so too are we acted upon, not just by our thoughts, but by the thoughts of others. And that can mean many things.
We are each as real as we believe ourselves to be, and there is only one person in the entire world that truly knows you: you. You are the only one who knows every detail, every nuance, every little thing about you, and knows the truth behind everything that you do. You are, in fact, real.
There is an idea in Buddhism that "You are what you think." If you believe yourself to be resilient, you will find a way to overcome a task. If you believe yourself to be skillful, you will take on challenges. And, alternatively, if you believe yourself to be incapable, you will be incapable. Your mind is so powerful that it can create you in any image you want, provided that you want it or believe it to be true.
And that image you create of you is, in fact, real.
But what if I told you that you're also a figment of my imagination? And not just my imagination; every person you meet imagines you differently. Each person walks away with a different interpretation of who you are, which is real to them, but not "real" to you or to another person. Someone might call you friendly, resilient, and smart. Another person might find you irritating and pedantic. You might find yourself pragmatic and outgoing. So which of these is the true "you"?
Well, some would say that your interpretation of yourself is the best one, but that's not true. Everyone, including you, observes the "youness" that is you through their own lens. You are, therefore, everything you believe yourself to be, and everything that other people believe you to be (even if you think they're mistaken), at the same time.
My concept of you is real, based on my experiences and as viewed through the lens of my own reality. You might disagree with me, and you'd be right. But that doesn't make me wrong.
We are real, and yet we are also interpreted. We are true, and are also imagined.
So, the next time they say you can be anything, be a dinner plate pretending to be a butterfly.
Have I blown your mind? Do you ever consider the nature of reality? Who knew Chrono Trigger could be so deep! Have you ever considered that reality can, in a sense, bend to your will? Let me know your thoughts in the comments!
Thanks for stopping by, and I'll see you soon!
~Athena
Do you like what you've read? Become a revered *Aegis of AmbiGaming and show your support for small creators and for video games as a serious, viable, and relevant medium!