Hey, I have an idea. Let's talk about women. Let's talk about women and how they're portrayed in video games.
Hey, I have another idea. Let's talk about men. Let's talk about men and how they're portrayed in video games.
A Long Time Ago…
Way back in the ancient history of this blog, way back before Mass Effects months, talks about addiction and coping via video games, and even before I tried my hand at slapping back when faulty research blamed video games for unemployment, I asked you all to play a game with me.
The point of this, I said, was to tailor some of my upcoming posts, which was an extremely broad-brush way of saying I would be using the information I got in an upcoming post to talk about gender in video games.
Honestly, I wasn't sure what to expect. If my hypotheses were proved incorrect, then I'd drop the issue and move on. But here we are, so here we go!
The Expected
I asked you, my lovely readers, to describe a series of video game characters using the first word that came to mind. While a few made me scratch my head (like "petals" for a warrior), and some made me chuckle (like "defibrillator" for Cole McGrath), most of the responses I got were understandable and somewhat expected.
Readers were also asked to talk about any patterns they saw for the above characters, but only a few people did so. Two commented on similarities in the pictures (everyone has some sort of knife or sword), or that they all seemed like part of a set (which they are: they are the promotional art for each of the origins from Dragon Age: Origins).
And two commented on the gender differences of the characters, which was somehow both more and fewer comments on that than I thought I would get. More because I expected none, and less because I wanted so badly for you all to see my point without me having to actually, you know, make it. Because then this wouldn't be an issue.
Anyway, here's my data. Let's take a look and then talk about it.
Let's look at the cold, hard facts. According to this – admittedly small – sample size, male characters are almost twice as likely to be described using positive words or words that denote strength or some sort of inner fortitude* as their female counterparts.
Meanwhile, women characters were three times as likely to be described negatively as their male counterparts.
Also worth noting is that women's appearances were commented on six times (i.e., sexy, gorgeous, bucktoothed, overdressed, and hairy, with "sexy" being used twice), whereas only one male character's appearance was commented on (i.e., handsome).
But Athena, I hear you type loudly, incensed. YOU'RE the one who gave us those pictures to label! That woman WAS bucktoothed/sexy/fierce/dangerous/graceful/whatever!!!
Maybe she was. Maybe every woman (in those six above) was depicted in a negative light. Maybe those women did look murderous, while their male counterparts looked regal and royal. Maybe my beloved forward-thinking-and-inclusive BioWare unknowingly made each "noble" a male, and each "commoner" a female in their promotional material.
And each of you picked up on those traits, to judge from your answers! But only two people commented on the difference between genders. No one else, even my most eagle-eyed observers, commented on that.
For which I don't blame you at all.
Sexism with a capital "S" is thankfully long behind us. Women aren't barred from working, and it's illegal to blatantly pay women less for the same work. But maybe sexism (with a little "s") is systemic to the point we don't notice it anymore. We've seen women put in the position being "lesser" for so long – and are so proud of the strides we have made to equalize the genders – that we don't notice when women are still subtly – and perhaps unconsciously – portrayed as not quite as good as their male counterparts. Like BioWare unknowingly and unintentionally did.
But what is the underlying message here? What does seeing your gender depicted as "lesser" – over and over again – do to a young woman or a little girl?
Note: before people start pounding away about feminazi's and "it's better now" and I'm being picky and everything else, I will say that, yes, things are better now. But we're still not where we should be. And media is still part of what shapes our ideas and our society. But that still begs the question:
Why Are We Talking About This… Again?
A while ago, I wrote about how game developers sometimes confuse game mechanics with game themes, and market mechanics toward one gender or another, which set off a different mini-series on representation in games, which ignited a lively discussion about sexism.
But in this article, we're talking about how women versus men are portrayed. We're talking about how women look versus how men look, and how that affects perception. Before dismissing this as over-exaggeration, though, it's important to remember that, in our society, a man's worth is not generally assessed by his appearance in the same way a woman's worth is. Even here, women were six times as likely to have their actual appearance (e.g., sexy, bucktoothed, etc.) commented on, compared to the men (i.e., handsome).
However, when a man's looks are commented on (in real life or in a video game), it's assumed that his looks are just a bonus. Indiana Jones is smart, innovative, and has dashingly good looks, whereas poor Lara Croft – originally modeled to be a female Indiana Jones – became gaming's sex symbol until her most recent game releases tried to salvage her image.*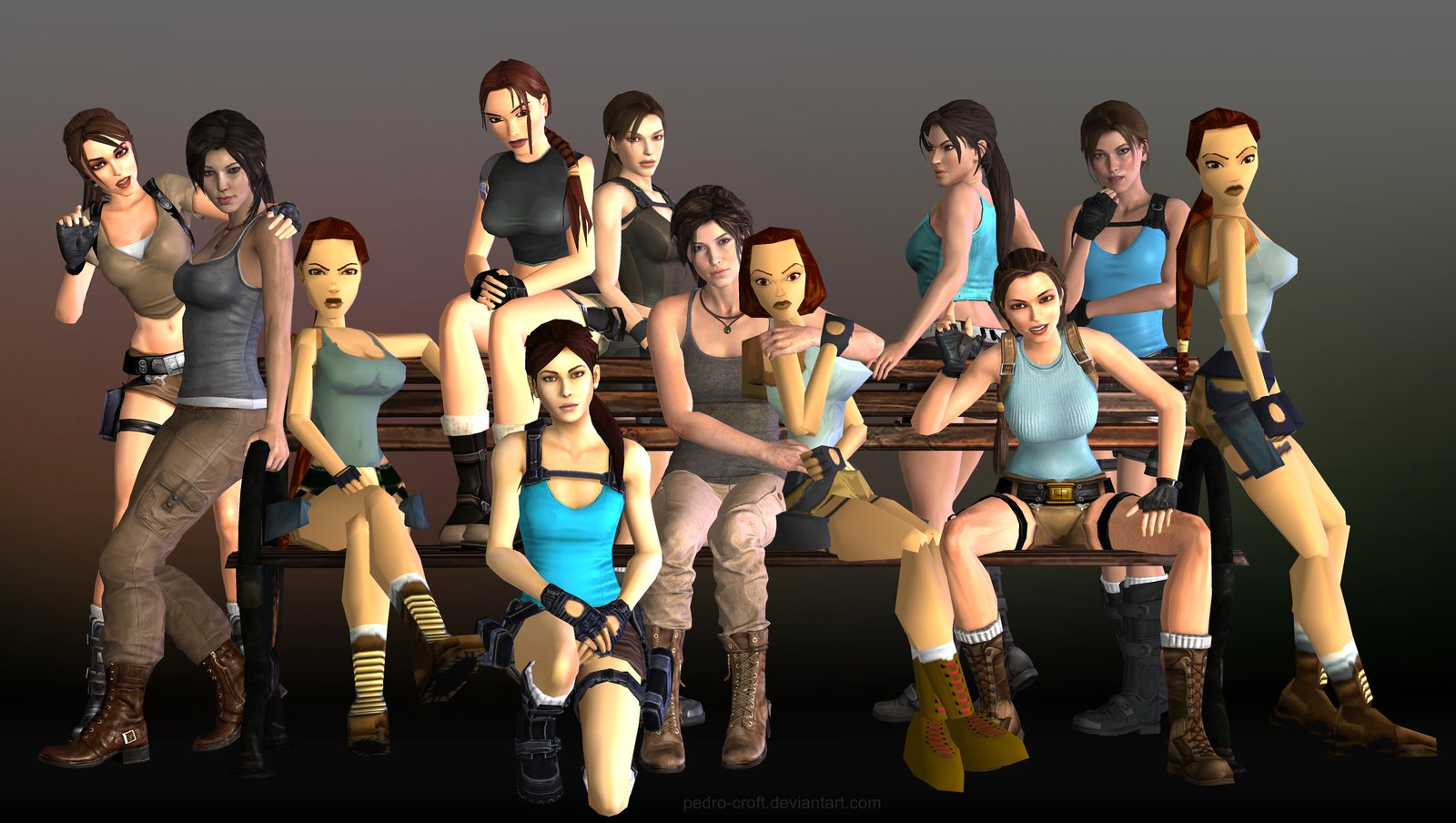 Conclusion
I wavered back and forth about the points I wanted to make. Frankly, I'm tired of debating with people about sexism and whether it still exists.
But that's really not my point.
The take-home message is not to condemn developers, gamers, or any one group in particular. We are all members of this imperfect society, and all of us affect and are effected by  it.
(edit for clarity) The point here is not to say that women are more aggressive than men, or to pass judgment on how we all interpreted those pictures. The fact is, I think those women look terrifying, too, and would rather be standing next to one of the men since they seem to pose the least amount of risk to me.
But the fact that women are portrayed as more aggressive/standoff-ish/etc. is the issue. When a person is exposed to these images again and again, they unconsciously begin to associate women with "negative" adjectives, and that's where things like sexism (and racism) comes from: our subconscious interpretations of other people that we weren't aware we learned and aren't aware we're acting on. (end edit)
What we can do – and should do – is be aware of what message media is sending us. We can try to notice things from the point of view of someone else, especially if they have been misunderstood in the past. Sexism, bigotry, and racism still exist, and it's up to us to be aware of it – not just when it rears its ugly head, but when it whispers to us in the dark when we're not expecting it.
What do you think? Do we not notice sexism in our media anymore? If a forward-thinking company like BioWare can send these types of messages without noticing, are they at fault? Are we? Does any of this matter? Let me know in the comments!
Thanks for stopping by, and I'll see you soon!
~ Athena
**Extra content available on this topic on Patreon!**
((Notes about experimental control:
The 6 pictures used above are the promotional pictures from BioWare, and the pictures of Bayonetta, Snake, Miranda Lawson, and Cole MacGrath were all images taken from their respective Wiki pages, in order to control for my own bias.
Adjectives were found on EnglishClub.com, and when a particular word wasn't found on one of the lists, I tried to find a synonym (e.g., "intelligent" for "wise") or interpret its meaning from context (e.g., "battle-ready").))
What's next? You can like, subscribe, and support if you like what you've seen!

– Support us on Patreon, become a revered Aegis of AmbiGaming, and access extra content!
– Say hello on Facebook, Twitter, and even Google+!
– Check out our Let's Plays if you're really adventurous!