Oh, hey guys. Why is everyone so angry at me?
Athena, you've written over and over and over again about representation in media, and how important it is for media to have characters who are women, and how representation is sometimes skewed in video games!!
Got it. If you've been following this blog, you are probably thinking that the title seems a little misleading, but stick with me, and by the end of the article I hope you'll see why I don't particularly like "female characters," and maybe you'll come to not like them so much, either.
A Brief History
For those of you who might not know, Aether from Lost to the Aether has been writing a miniseries on women in games, entitled "Lagging Behind on the Leading Ladies." If you haven't already, definitely check out parts one, two, and three when you get a chance, because they are fantastic and well-informed reads.
He made a very interesting observation about female characters being remarkable simply because of their gender. And as much as that grinds my gears, his observation is correct. We as a society are still very "surprised" or "pleased" to see women in powerful positions, in media and in real life, so sometimes other characteristics may be glossed over.
I remember people saying something like this about Wonder Woman, my favorite superhero, when I was growing up. "She's just Superman as a woman," or "It's so great that there's a woman superhero!" Well, what about the fact that, if Wonder Woman were a man, she'd be lauded for being as wise as Athena (not me), stronger than Hercules, and swifter than Mercury? But no. Put a skirt on her and all of a sudden it's just so nice she's a woman.
But that was then, and this is now. It's 2017 and a whole new year is just about upon us, so how do we move beyond patting ourselves on the back for simply programming different character models into our games?
Female Characters
Picture a person saying: "He runs so well for someone with cerebral palsy!"
Picture a person saying: "He's so nice for a teenage boy!"
Picture a person saying: "She's so pretty for a lesbian."
Picture a person saying: "She's so smart for a girl!"
What do all of these phrases have in common? They all have a signifier that puts the person in question in a category separate from the norm. It's meant as a compliment, but consider the alternatives:
"He runs so well!"
"He's so nice!"
"She's so pretty!"
"She's so smart!"
Those have a bit of a different connotation, don't they? The first four sentences sort of imply that the accomplishment is unexpected for one of "those people" and "those people" are somehow lesser. Teenage boys are thus implied to be rude. Girls are implied to be dumb. People with cerebral palsy are implied to be incapable of anything more than hobbling around. Lesbians are implied to be ugly. So wow here are some people who are in those groups and who defy that stereotype… but it's to a point. He's only nice enough to be remarkable in the "teenage boy" category. She's only smart enough to be remarkable in the "girl" category. And so forth.
Saying a character is a good "female character" is similar to this. It puts the character in a "special" category. Wonder Woman is not a good female character. She's a good character, and she happens to be a woman. Yes, yes I know that "female character" takes less time to write than "character who is a woman," but from a complete semantics and sociological standpoint, always focusing on what separates us, and applying (however unintentionally) categories that we deem as "lesser" to certain groups, will keep us from moving forward in the ways that we need to as a society. To be clear, it's this second connotation of "female character" that I'm crusading against.
Initial bursts of advocacy always necessitate a certain degree of slapping people in the face with the idea of being different yet equal. This is an important step, and I support it as part of the path to equality.
This article, however, is taking a more nuanced look at the problem, because I think by now you guys know that I often eschew the immediate problem in favor of focusing on the ideal we should be striving for.
Mrs. Man
Now that we've gotten the obligatory semantics discussion out of the way, let's take a look at some valiant efforts in the world of character creation. Besides the above-discussed subconscious categorization, one reason I dislike "female protagonists" relates to something Aether said about women (characters) being remarkable simply by them being women. While I am most definitely not angry with Aether as he supports his point and I do agree that his conclusions are a fair assessment of the current situation, I take a bit of personal umbrage with this concept, because if the most fascinating thing about me is that I can bear children and wear a bra, then…
(Sure, some women in games are used as eye candy, and some games depict women in some unsavory situations, and that is their most important role, but let's look at games that are trying to offer more than that.)
To counteract this fascination with The Female Person, some developers present their leads (who happen to be women) as a sort of Mrs. Man. It is literally the same character with a different skin put on it. As much as I hate to say it, my beloved BioWare does this over and over again in their games. Gender truly is not an issue. No one cares if the main character is a male or a female, and the stories play out pretty similarly (barring possibly a few dialogue or romances choices) whether you're Male!PC or Fem!PC. Both genders are equally strong, emotionally stable (or not), suave, attractive, accurate with a gun, and brilliant tacticians. As the song goes, "Anything you can do, I can do the exact same way."
This is not inherently bad.
This kind of counter-stereotyping can be a little refreshing, actually. Finally, it doesn't matter that XYZ person is a woman. Maybe in real life my male coworker just repeated something I said and took all the credit for it after I was ignored, but gosh darn it everyone takes my Grey Warden seriously. It can be a nice outlet, and is a great way to show what a world might be like if people truly didn't assign importance to gender expression or gender roles.
Of course, I realize that an RPG would be a nightmare to program if the characters were any other way, but when this type of broad brush stroke is implemented poorly… well you get the "female character."*
I'm going to preface this by saying, again, there is nothing inherently "bad" about signifiers that are traditionally "female": pink, bows, high heels, or wearing certain clothing. In the physical world, people of any gender are of course welcome to dress however they'd like in whatever colors they choose, and that's not a problem in the slightest.
However, using these types of signifiers over and over again in a singular way (in media) does one potentially harmful thing: it marks women as different (think Ms. Pac-Man, Nana from Ice Climber, and even the female knight from Rogue Legacy). If everything else is equal between genders, there is no reason for women to be so strongly marked as "different" or "other." Worse, these characters might be reduced to truly being remarkable only because of this difference: their gender.
Wendy Koopa is a great example of this. She has a pink shell, a bow, high heels, a necklace, and big pouty lips. From her appearance, you can see that she's a girl. Compare to Ludwig, who looks intelligent. Or Iggy, who looks a little crazy. Or Roy, who looks like a "tough guy." But what about Wendy? Oh, right. She's a girl. The only defining characteristic we get from her character model is her gender, compared to her brothers, whose genders are not "marked" in one way or another. The characteristics that define them are their personalities.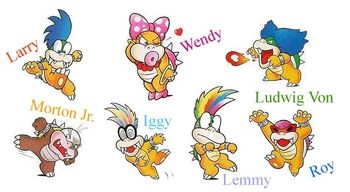 But Athena, I hear you query, there are physical differences between men and women and they must be addressed. 
Yes, obviously, things like stature and other physical characteristics are going to be different between men and women, and games like Mass Effect and Rogue Legacy and others will modify character models and armor pieces to demonstrate that. Sure, women's leg shapes and arm shapes are different, and their center of gravity is different from a man's.
Yes, by all means make characters look realistic. But some games do better than others when showing that the character is female but showing that she's not just a "female protagonist".
The Heart of Differences
It might be tempting to instead have a woman in a story or game simply defy every gender stereotype and act like a man who just so happens to look like a woman. This begins to exist in a lovely grey area, because on the one hand, sure, why shouldn't a woman be able to act like a man if she wants to? But on the other hand, most people don't defy every single gender role/stereotype all of the time. If that's the personality of your character, sure, but that will need to be written very well into the character's design so it doesn't feel fake or forced.
Which brings us to the quagmire of the actual differences between men and women. Obviously there are biological and physical differences: men have more upper body strength, women have better dexterity, men need less sleep, women have higher tolerances for pain, men have better depth perception, women see color slightly better, etc etc. But games also deal with the societal differences between men and women, which are fluid between cultures and even between people. Societal pressures push us in different directions, and we respond to those pressures dynamically, sometimes accepting and sometimes rejecting what society deems "appropriate" for our gender.
Wonder Woman is a fantastic example of this (you knew she would come up eventually). She defies many traditionally-female gender roles by being as physically able as a man, wearing whatever the heck she wants, and being assertive. She also accepts (read: acts within) some traditionally-female gender roles by being driven by her emotions, specifically compassion. She defies stereotypes then by actually drawing strength from her emotions, rather than being crippled by them. Her acceptance and rejection of gender roles changes based on the situation she is in. Every person in life, regardless of gender, acts like this. So when we see a character that acts like this, as well, we are drawn to them.
And then we look past their gender. Sure, maybe Ashley Williams's armor is pink, but she's so much more than just "that female soldier" that her appearance is hardly mentioned.
What's the Answer?
That's a great question. Given some of the fantastic protagonists we've seen over the past year, it seems like at least a few people are doing something (or a few somethings) right. So I'm going to challenge you with something: From the following list, pick one protagonist and tell me what gender norms they accept, and which they deny, and whether/how this changes during their journey.
Chloe Freaking Frazer from Uncharted: Lost Legacy
Aloy from Horizon: Zero Dawn
Zelda from The Legend of Zelda: Breath of the Wild
Senua from Hellblade: Senua's Sacrifice
Cora from Mass Effect: Andromeda
B2 from Nier: Automata
What is it about these women that are so remarkable?
I'll give an example. Cassandra from Dragon Age: Inquisition defies many stereotypes. She wears her hair cut very short, wields a sword and shield canonically better than the other (male) warriors, and really loves poetry. While at a first glance, that seems like a cute little counterpoint, in reality, she defies some stereotypes and accepts others. She accepts the "societal pressure" to enjoy sappy, romantic writing, but only when it's convenient for her. Other times, she turns it off and kicks the stuffing out of people.
Midna from Twilight Princess is strikingly beautiful, a princess, and can kill a person with her hair. Zelda from the same game actually takes up a sword to defend her kingdom, and then rides with Link to fire Light Arrows at Ganondorf in the final battle, all while wearing her delicate royal attire and maintaining her court manners. Surprisingly, Ashley Williams gives the best summary of what it means to be a good character:
It's this interplay of accepting and denying the societal pressures put on us that create good characters of either gender, and realizing that these relationships are fluid and may change with our circumstances.
That's why I don't like"female protagonists." There is so much more to someone than their gender, and until we consistently see past that, our progress will not be enough.
So now, I put the question to you:
What is it that makes a good character? What is it about the above-mentioned characters that make them so remarkable? Are they examples of good female characters, or are they simply good characters who happen to be women? How can we keep moving forward with good examples of representation in media? Let me know in the comments!
Thanks for stopping by, and I'll see you soon!
~ Athena
What's next? You can like, subscribe, and support if you like what you've seen!

– Support us on Patreon, become a revered Aegis of AmbiGaming, and access extra content!
– Say hello on Facebook, Twitter, and even Google+!
– Check out our Let's Plays if you're really adventurous!