Christmas is coming! It's almost here!
Christmas is coming, Santa! Get your rear into gear!
We're back with our 12 Days of Christmas Collaboration, hosted by Kim over at Later Levels!
On the third day of Christmas Collab, Kim asked of me: You receive a call from Santa, as the elves desperately need a hand in the workshop getting all the toys ready. Which video game character would you recruit to help out?
This man. This man deserves a medal.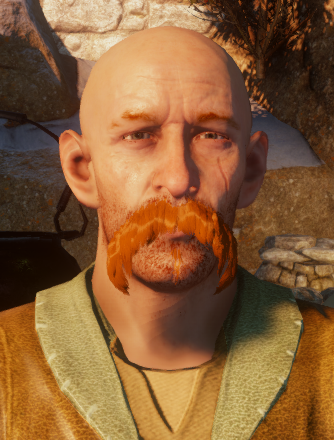 Give this man a few pieces of leather, some rocks, and a plant, and he can craft you an amazing longsword. Harritt from Dragon Age: Inquisition is the resident blacksmith of Haven and Skyhold, and it seems like there is no job too big or small for him, as long as you have a schematic. I originally wanted to bring in Wade from Dragon Age: Origins, but I think he'd be too busy with his "vision" to really get the toys made. But Harritt? You ask Harritt for some armor, and you get armor right then. It's like magic, I swear.
As a bonus, I always think it's cute when big strong men all of a sudden find their soft side, and so from a purely self-indulgent standpoint I like the idea of him sitting down at a workbench to make toys so little kids can be happy.
Anyway, I think with the speed that Harritt is able to craft complex armor and weaponry, he'd definitely be an asset when trying to produce the toys in an almost impossibly quick pace to have them ready for Santa's big ride on the 24th. And the Inquisitor never had any of her equipment fail,  so his craftsmanship is great, too. All in all, I think if Santa's elves needed backup, they wouldn't go wrong with a call to Harritt.
Assuming the Inquisitor can part with him for a few days.
What do you think? Who would be the best asset for Santa and his elves as they try to reach their deadline? Let me know in the comments!
Sipping hot cocoa while watching the elves work,
~ Athena
What's next? You can like, subscribe, and support if you like what you've seen!

– Support us on Patreon, become a revered Aegis of AmbiGaming, and access extra content!
– Say hello on Facebook, Twitter, and even Google+!
– Check out our Let's Plays if you're really adventurous!