As you guys know, I'm a fan of theology, especially when theology is mixed into video games. And boy, is the Mass Effect series rife with theological constructs we can discuss.
Today we're going to look at the simplest one that Mass Effect explores: does an all-powerful god exist?
In the Mass Effect series, there are only two specific instances when faith is explicitly commented on, and both of them take place in the original Mass Effect. The first one occurs during a conversation with Ashley Williams, who mentions her faith when talking about her deceased father, particularly her belief that Heaven – as Christians like Ashley describe it – exists. To her, there is no question that there is a god, and that god is the Judeo-Christian God.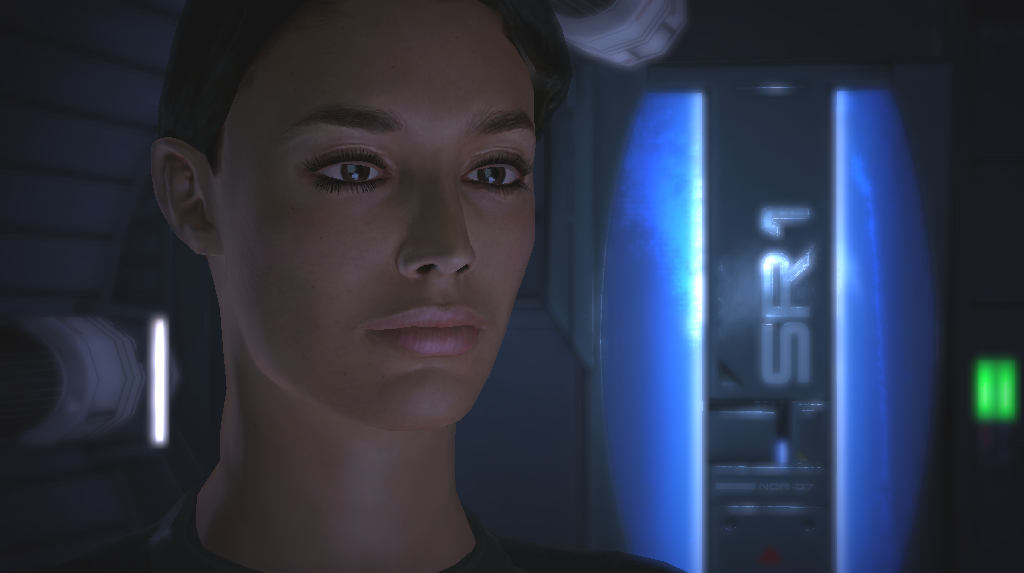 The other instance is after the fight with Matriarch Benezia. As she dies, she comments with distressed bewilderment that "they said there'd be a light," referring to the oft-described phenomenon of seeing and going toward a bright light when dying. The implication is that Benezia does not see this light as she dies.
These two instances represent the two clear sides to the god issue: theism and atheism.
A Few Definitions
Theism is the belief in a god, whether it is the Judeo-Christian's God, Islam's Allah, Hindu's Vishnu, or any other specific all-powerful deity or deities.
Note: For the sake of this article, I will be lumping the gods of all religions under the term "God."
Theists generally take comfort in the knowledge that God is watching over them and watching out for them, and that there is something meaningful waiting for them in the next life (if they earn it based on the rules and regulations of their preferred religious doctrine). They believe that God is generally not vengeful, insofar as God does not purposefully harm life in the universe – at least without cause.
Atheism, on the other hand, is a disbelief in a god or other specific, named higher power. They take comfort in knowing that this physical existence is all there is, so it is up to each of us to make it worthwhile and meaningful. There is no higher power to answer to, and no final calculation after the final "game over."
When looked at objectively, these are both beliefs, in their own way, as there is no scientific proof that supports or denies the existence of a god or higher power in the universe. While theists can be adamant their beliefs are correct, and atheists can be similarly adamant in their own beliefs, when we look at those ideas next to each other, both are simply different ways of interpreting the world around us.
Why the Details Are Important
This tug between theism and atheism revolves around the question of whether or not the universe houses an all-powerful being, with the understanding – by theists – that if such a being exists, that being is generally beneficent.
To provide a little contrast to another BioWare game, in the Dragon Age series the Maker is believed to exist, he is believed to be benevolent, but he is also believed to be absent from, and somewhat indifferent toward, his creations.
The Mass Effect series, on the other hand, plays the other side of the argument: what happens when the universe is most definitely full of a supreme power, also indifferent, but not so benevolent?
I've Got the Power
In this instance, the Reapers are the godlike power in the universe. They are all-powerful, influence the life of organics in the galaxy, and are distant and unknowable to the organics and synthetics who try to understand them. We talked last week about how the synthesize ending hinted at some of the themes in A Childhood's End by Arthur C. Clarke. Let's break that down a little more. Unmarked spoilers for Leviathan DLC ahead, just so you know!
In Childhood's End, alien creatures invade Earth. They are benevolent, and shape humanity to their liking – in this case, to become kinder and more altruistic in nature, and to improve their morals and ethics. Then, after many years have passed, they begin the final stages to prepare Earth for its destruction and to preserve the "best" of humanity in a way I won't describe due to spoilers. In a fun twist, these aliens are only servants of other creatures – creatures that the aliens only serve and have no hope of understanding. They are only sent to do their job for whichever civilization is "next."
Clarke is exploring the idea of elevating a species in order to become more godlike, in order to transcend our physical existence and – simply – become part of the greater, higher power in the universe.
Does this sound like another creature you know?
Fear the Reaper
The important difference between Clarke's creatures and the Reapers, however, is their action. The creatures in Clarke's novel are kind to humans, gently encouraging them toward better behaviors. The Reapers, on the other hand, seek to assimilate organics through displays of force and power, and annihilating any organics that stand in their way.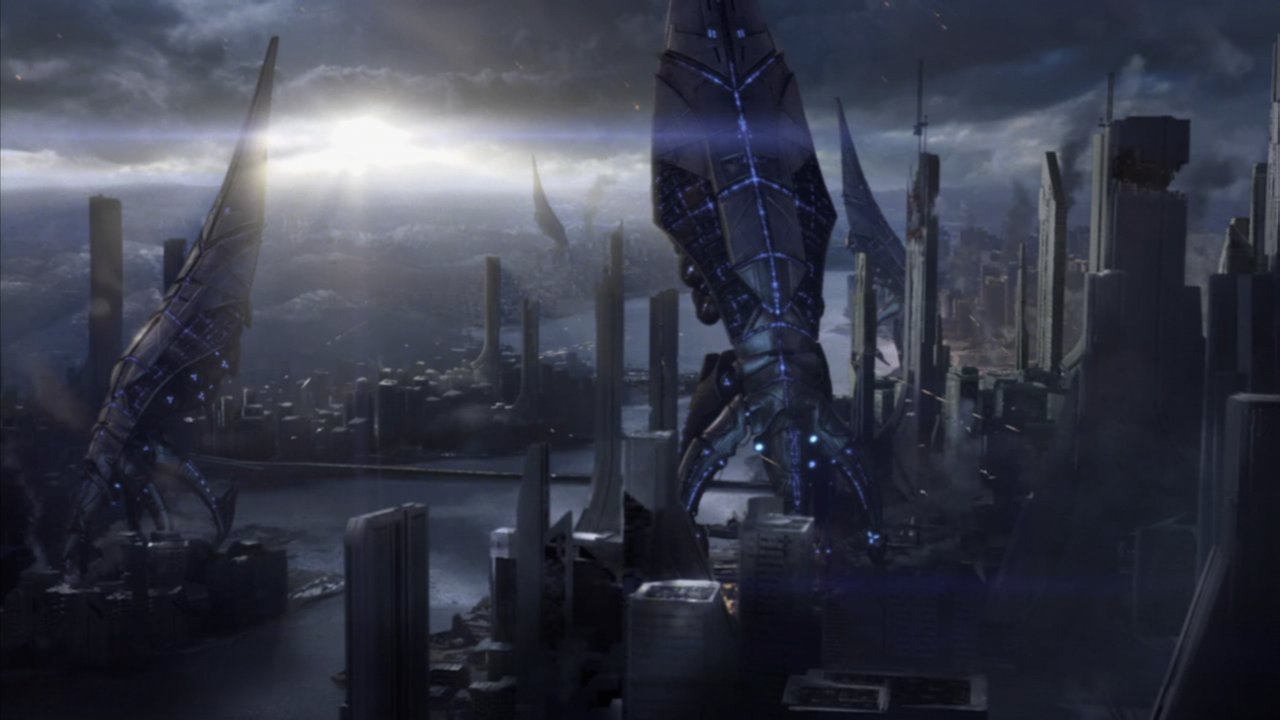 Reapers were meant, according to the Catalyst, to protect humanity from conflict with synthetics, and to preserve organics by assimilating them into the borg into the Reaper AI consciousness. They (try to) force evolutionary advancement onto organics, and they are not apparently successful, as the organics always seem to fight back (and lose).
This is because, like most vengeful gods (aka, those based most on human characteristics), the Reapers' logic is based on flawed human principles, or in this case, flawed organic principles.
An example of these flawed human characteristics in a "real world" religion would be the story of Hera, Athena (not me), and Aphrodite all vying for the title of "most beautiful goddess" (human flaw of vanity). Another example would be Zeus's infidelity. Or Hera's jealousy. While these five examples are Greek gods, they have very human flaws, and often act as humans would, even though they are "supposed" to be gods (i.e., above petty human experience).
But back to the Mass Effect universe.
Leviathan believed his species to be gods, as they could bend the galaxy to their will. They created the Intelligence to solve the problem of organics creating synthetics, only for synthetics to rise against them, but with one little problem.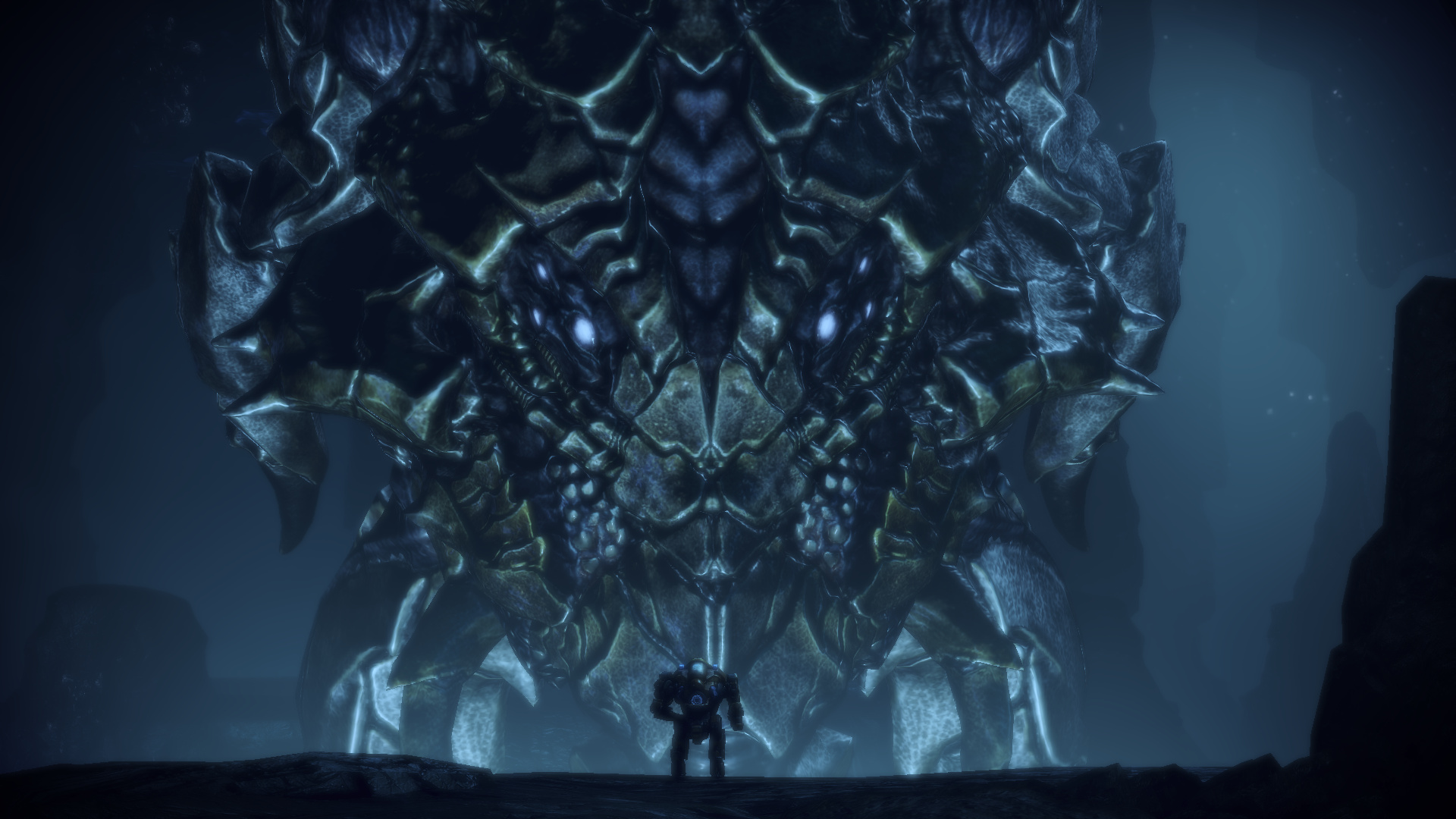 Historically, organics designed synthetics to serve them. As synthetics became more self-aware, they rebelled against their organic masters. So it was with the Reapers – synthetics created by organics. They are not all-knowing. They are based on flawed logic of the Leviathan race: aloof, uncaring, and convinced they know best.
And they're coming to get you, because only they know best. Organics made plans, and the Reapers laughed.
The God Cycle
Regardless of whether the Reapers are good, evil, or simply a force in the galaxy, they also represent a cycle of creation and overthrow that permeates most religions. The Titans overthrew their creators, and were subsequently overthrown by the gods of Olympus. Even the vengeful God of the Old Testament was "overthrown" by the peaceful, accepting teachings of Jesus of Nazareth (in some religions).
Likewise, in the Mass Effect series, this cycle continues. To survive, one must either destroy the gods, or become one. The Reapers overthrew their creators, and now… Shepard stands with the Catalyst, able to overthrow or destroy the Reapers if she chooses. But more on that next week…
Lingering Question
As we've seen, the Reapers have a purpose, but it is not one that is all-knowing. After all, if the Reapers logic were "perfect" like that of a "perfect" god, they would be able to fathom a world where organics and synthetics lived peacefully. Like Clarke's creatures, they could encourage the creatures of the galaxy toward one type of behavior or another. But that isn't how the Reapers work. So we are left thinking:
Is it more comforting for us to wonder if there is a god and about the nature of that god (a la Dragon Age), or to know there is a god, yet also know that god can – and will – destroy us when the whim strikes?
What do you think? Are the Reapers godlike, but only machines, or godlike machines? Are they simply misunderstood in their purpose, or do they grossly misunderstand organics? Let me know in the comments!
And join us next week when we take a look at the Catalyst's relationship to the Reapers and Shepard.
Thanks for stopping by, and I'll see you soon!
~ Athena
PS Childhood's End is a fabulous book. It's not often that I read an entire novel in one day, but I could not put it down, and so I highly recommend it. If you liked 2001: A Space Odyssey, you'll like Childhood's End.
---
Is your subscription to our blog not enough? Do you want more AmbiGaming? Of course you do! So you should definitely check us out on Twitter @TheAmbiGamer or subscribe to follow our Let's Play adventures on YouTube!